SUSTAINABLE SYSTEMS FOR SELF-CARE
The InterPlay Way for Helping Professionals
CathyAnn Beaty
and
Cassandra Sagan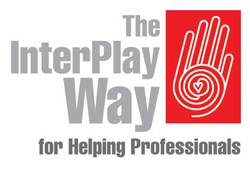 Lake Oswego, OR
June 23-25, 2017 • Friday 7 pm – Sunday 5 pm
Earn 16 Continuing Education (CE) credits for many professions.
Looking for ways to manage the challenge of working with others? Do you want more ease, less stress, ways to let go of the problems of others and to improve your own sense of well-being? Looking for tools to pass on to your clients?
This weekend workshop provides InterPlay-based tools, ideas and practices to support the professional work of therapists, social workers, clergy, chaplains and others in closely-related fields. Or just come to explore the deep wisdom of body, heart, mind and spirit working together as one.
InterPlay is a powerful, integrative system that accesses all parts of ourselves through story, movement, sound, and stillness. The wisdom of the InterPlay Way is currently being used by helping professionals around the world.
Because practice and on-going support is an important part of shifting our ways of being, the initial weekend is followed by six sessions of 2.5 hours with local InterPlay leaders Cassandra Sagan assisted by Marci Rau. These sessions will include opportunities to integrate InterPlay ideas and tools that can change your life.
Schedule
Friday & Saturday 9 am – 5 pm
Sunday 2–5 pm
Tuition
16 CEs for the weekend, $350/ or $325 to participate without CEs
with 6 follow up sessions ($180/ date times TBA) led by Cassandra Sagan and Marci Rau
Continuing Education
16 CE credits for RNs, MSWs, LPCs, MFTs are pending approval. *No partial credits will be given.
CE preregistration deadline is no later than June 9, 2017. Notify Body Wisdom staff at time of registration that you want CEs. A CE fee of $25 will be due at time of preregistration.
CEs are offered through Commonwealth Educational Seminars. Please see the Commonwealth website for specific information regarding disciplines covered.
Cost:

$350 with CEs/$325 without CEs/$180 for additional 6 sessions
Registration/Information:

Register online above or call 510/465-2797. Local info: Cassandra Sagan 503/292-7044 or cassandra@ukemama.com

Venue
Lake Oswego UCC Church
1111 Country Club Road
Lake Oswego, OR 97034
Leaders
CathyAnn Beaty
CathyAnn Beaty, MDiv, is a master InterPlay leader, dancer and visual artist. She has been working with ongoing groups of therapists, clergy and other helping professionals for the past 12 years through her business SoulPlay, www.soulplay.org and has developed new approaches to healing based both on her professional and personal experience. CathyAnn is an ordained minister and began her InterPlay journey in 1989 when serving as pastor at Spirit of the Lakes UCC. She got her Masters of Divinity at United Theological Seminary of the Twin Cities in 1984 and did her Clinical Pastoral Education at Hennipen County Medical Center in Minneapolis. She served three parishes over 15 years. CathyAnn leads the InterPlay Life Practice Program, The InterPlay Way, performance workshops, couples classes, mentors leaders in training and directs SoulPlay Performance Ensemble. She has taught InterPlay in India, Australia and around the United States.
Cassandra Sagan
Cassandra Sagan is a Maggid, Jewish storyteller/teacher/preacher, and a designated Leitz Kadosh, Holy Clown. She is a poet, singer/songwriter, performer, and InterPlay Leader who has worked with adults and children for over 25 years helping them to access their full creative brilliance.