Light Gets In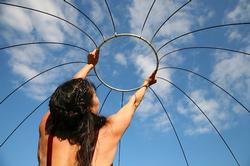 Seattle, WA
Saturday, March 25th 9:30 am to 3:00 pm
Utilizing the container of InterPlay as a launching point for channels of play, we will explore some of the cracks happening in our systems and stable data. We will touch on "the groan zone" , "the shatter zone", "scar inventory", and "sitting in my discomfort" in relationship to personal and current events.
We will play with ways to rise up and shine through following and leading using movement, singing and storytelling forms. We will take note of these cracked places and ways light energy can come through. "Ring the bells that still ring. Forget your perfect offering. There is a crack in everything. That's how the light gets in." - Leonard Cohen
Come unity. Playing through!
Cost:

$100 or by donation
Registration/Information:

Leah Mann Register by contacting Leah Mann at leah.lelavision@gmail.com

Venue
Queen Anne Christian Church
1316 3rd Ave W & W Lee St
Seattle, WA 98119
Neighborhood parking. Along 3rd Ave W there is a single door entrance with a stained glass window beside it. Come in that door and go up the stairs and through the double doors to the Fellowship Hall. Wear layers!
Leaders
Leah Mann
Previously the artistic director of the urban outreach program, Moving in the Spirit
, Leah Mann now co-directs Lelavision Physical Music
. With her partner Ela Lamblin, she tours internationally, performing a hybrid genre combining kinetic music inventions animated through music and dance in simultaneity. She teaches movement, rhythm and instrument making from ordinary objects with a wide variety of populations from a base of improvisation informed primarily by the InterPlay technique.