Discover the healing and integrational power of creating for yourself and your clients!
InterPlay Life Practice Program: Training for Helping Professionals
Sharie Bowman
,
Stephen Condit
,
Krista Gemmell Harris
, and
Lori VanderBilt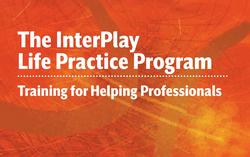 Seattle, WA
Sept 16-18, 2016 • Fri 9:30 am – Sun 5:30 pm (Secrets of InterPlay) then 8 monthly meetings Fri 7 pm – Sat 4:30 pm • Oct 2016 – May 2017
In this 9-month program, you will learn the techniques and body wisdom principles of InterPlay (sometimes referred to as cognitive-behavioral therapy for kinesthetic learners).
• Learn to lead your life in a more embodied, playful way, and great self-care techniques for health care professionals
• Reclaim voice, movement, stillness, and stories as primary ways of knowing
• Discover a mindfulness approach for people who can't sit still
• Gain new creative approaches to support challenging clients
• Ground yourself in a communal ethic of play to replace stress with health, creativity, joy and purpose
• Learn specific techniques to create and support healthy group/family interaction and build a sense of community
• Learn simple but powerful techniques for building bonds of attachment between partners and parents and children
• Develop improvisational skills to increase confidence in working with clients and speaking in front of groups
Download the brochure for this program...
"The Secrets of InterPlay for Helping Professionals" is a multiple-day retreat that is part of the InterPlay Life Practice Program. It covers both the practice and philosophy of InterPlay. You don't need previous InterPlay experience to attend. Those who wish to immerse themselves in InterPlay but don't choose to do the Life Practice Program may also take part.
Schedule
Secrets of InterPlay
September 16–18, 2016
Friday & Saturday 9:30 am – 4:30 pm
Sunday 1:30–5:30 pm
Monthly Meetings
Fridays 7–8:30 pm
Saturdays 9:30 am – 4:30 pm
Oct 14–15, 2016
Nov 11-12
Dec 9-10
Jan 13-14, 2017
Feb 3-4
Mar 10-11
Apr 7-8
May 12-13
This program has been approved for 72 CEUs by the NASW Washington State Chapter. Licensed Social Workers, Marriage and Family Therapists and Mental Health Counselors are eligible. Provider number #1975-402.
Cost:

$2250 - for full program (Repeaters $900) ($400 for "The Secrets of InterPlay" weekend only; $300 for repeaters)
Registration/Information:

Call InterPlay office: (510) 465-2797, info@interplay.org or Sharie Bowman at infoseattle@interplay.org

Venue
Queen Anne Christian Church
1316 3rd Ave W & W Lee St
Seattle, WA 98119
Neighborhood parking. Along 3rd Ave W there is a single door entrance with a stained glass window beside it. Come in that door and go up the stairs and through the double doors to the Fellowship Hall. Wear layers!