Create more ease, community, grace, energy, and joy in all parts of your life!
The InterPlay Life Practice Program in Atlanta
Jennifer Denning
,
Christine Gautreaux, LMSW
, and
Carolyn Renée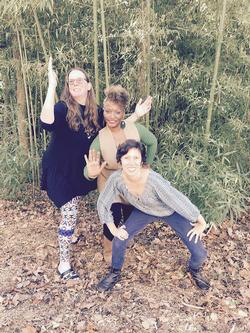 Atlanta, GA
Secrets of InterPlay Fri–Sun, Mar 24–26, 2017; Monthly Meetings May–Oct 2017
The Life Practice Program creates opportunities to:
Discover new ways of getting what you really want in life based on an ethic of play;
Deepen what it means to live from your natural, embodied self;
Connect to the wisdom inherent in the creative expression of the body;
Rest in a community that respects and affirms the wisdom of each individual;
Expand your sense of connection, play and possibility in the areas you are called to serve in the world.
Each month, we will play with one of the 8 InterPlay Tools and deepen our practice of the InterPlay movement, storytelling, and vocal forms. The experiential format includes individual, paired and group forms, presentations, discussion and focus sessions. In between meetings, you'll have brief reading, reflection and writing assignments designed to support your integration and learning.
Jennifer, Christine and Carolyn bring deep love & a commitment to social justice to their work as InterPlay Leaders. In Atlanta they have expanded their InterPlay work to include offerings to women in prison, NAMI of Georgia, The Friendship Center and Trinity House. They actively integrate the principles and practices of InterPlay to sustain them in their personal and professional lives.
Schedule
Secrets of InterPlay Retreat
Friday, March 24, 7-9:30 pm
Saturday, March 25, 9 am-9 pm
Sunday, March 26 1-4 pm
Monthly Meetings
Fridays 7–9:30 & Saturdays 9 am – 9 pm
May 19 & 20
June 23 & 24
July 21 & 22
August 18 & 19
September 22 & 23 October 20-22 Closing Retreat
CEs
44 CE credits for RNs, MSWs, LPCs, MFTs are pending approval. *No partial credits will be given.
CE preregistration deadline is no later than April 6, 2017. Notify Body Wisdom staff at time of registration that you want CEs. A CE fee of $25 will be due at time of preregistration.
CEs are offered through Commonwealth Educational Seminars. Please see the Commonwealth website for specific information regarding disciplines covered.
Cost:

$2150 (includes Secrets) + $200 space use fee including Closing Retreat
Registration/Information:

Contact Body Wisdom's office at 510/465-2797, local contact, Jennifer Denning at 404/272-0848 or atlantainterplay@gmail.com

Venue
St. Luke's Episcopal Church
435 Peachtree St Ne
Atlanta, GA 30308
Free Parking
Leaders
Jennifer Denning
Jennifer Denning is the co-founder of InterPlay Atlanta. She launched InterPlay Atlanta's offerings with women in prison and teaches weekly at The Atlanta Pretrial Detention Center. She also regularly leads InterPlay at Trinity House and The Friendship Center. She is an InterPlay Life Practice Program leader and directs Atlanta's InterPlay performance group, Soulprint Players.
Christine Gautreaux, LMSW
As a Licensed Master Social Worker, Christine uses InterPlay in a variety of settings and workshops with her peers and clients. She enjoys taking InterPlay and performance into underserved communities. She has worked with women in Lee Arrendale State Prison and the pre-trial detention center in Atlanta, GA. Christine also uses InterPlay with her Life Coaching Clients and in her workshops with foster/adoptive families. Dedicated to the pursuit of play, joy, laughter and love, Christine enjoys InterPlay, yoga, blogging, DCP, triathlons, family & friends and tea. Her superpowers include connecting people, helping folks manifest their dreams and juggling a full delightful life.
Carolyn Renée
Carolyn Renée is a teaching and performing artist, organizer and administrator. She is also former Executive Director of Alternate ROOTS, a nonprofit that supports the creation and presentation of original art rooted in communities of place, tradition or spirit. Since the early 2000s, through her work with Alternate ROOTS, and the Mississippi Arts Commission she worked closely with the nonprofit community and arts organizations throughout the southeast United States and the District of Columbia to organize workshops, learning exchanges, retreats, showcases and member gatherings. Carolyn Renée is a teaching artist with Synchronicity Theatre's "Playmaking For Girls" program. Playmaking for Girls empowers incarcerated girls, refugees, and foster care girls through the medium of play-writing, theatre games, and performance. In 2015, she received funding from The City of Atlanta's Office of Cultural Affairs for her original play, The Mother Daughter Dialogues. Carolyn Renée is a singer, songwriter and storyteller. In the InterPlay organization, she is a Co-Liaison Leader to InterPlay Leaders and People of Color. In May 2017, she served as the lead organizer for the first ever InterPlay People of Color Retreat. Coming from a family of healers, she's a third degree Naturopathic Reiki Master, and offers Reiki certifications throughout the United States in partnership with A Life of Peace Education and Wellness Institute. She uses "Carolyn Renée" as her full name.