Birthright Practices for the Global Majority
InterPlay for People of Color
Soyinka Rahim
and
Coke Tani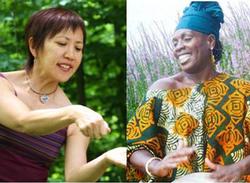 Oakland, CA
Wednesdays ongoing • Beginning March 16, 2016 • 6:30–8:00 pm
Do you identify as a person of color (POC)?
Do you desire a time and space to decompress and rejuvenate with other POCs, while honoring the stories that you and others carry?
Do you want to rest in restorative forms facilitated by other POCs?
Join us!
Through the forms of InterPlay©, together we will begin to reclaim our birthrights.
These include:
• The right to move freely in space
• The right to make sound and lift our voices for life's sake
• The right to tell our stories, to have them witnessed, and the right to listen to others'
• The right to be still
• The right to connect with other POCs
Cost:

$0–15 sliding scale
Registration/Information:

Call 510/465-2797 or email info@interplay.org for more information - or just show up!

Venue
InterPlayce
2273 Telegraph Avenue (at 23rd St.)
Oakland, CA 94612
InterPlayce is the center of the InterPlay universe. The offices for Body Wisdom, Inc. are also located here. The building is at the corner of 23rd and Telegraph, one block north of West Grand. It is just a few blocks from the 19th Street Downtown Oakland BART station, and on several convenient bus lines. On-street parking is always available at night and metered during the day. It is also easily accessible by several of the major freeways.
Click here for a map.
Leaders
Soyinka Rahim
Soyinka Rahim, founder and director of OurThing Arts Company and BIBOLOVE, is a Certified InterPlay Leader. Soyinka has a long history as a member of the Bay Area's most renowned modern and ethnic dance companies. Her work taps into the power of sound and vibration to create peace and happiness for all humanity. In addition, she created the original, acclaimed Dance Play "An Alter Piece to Alter Peace," and has worked with passion for intergenerational community in schools and community centers all over the West Coast and U.S. Her work as a conference weaver and workshop leader includes Race Forward, National Association for Independent Schools Teachers of Color, Boys and Girls Clubs, Spiritual Directors International, and the Parliament of World Religions.
Coke Tani
Coke Tani, MSW, MFA is an interdisciplinary artist, former community-based therapist, and serves as InterPlay's Liaison to Leaders of Color nationwide. It is her joy to co-lead InterPlay classes for People of Color, the Secrets of InterPlay, the Life Practice Program, and customized workshops and retreats. She believes that one of InterPlay's most powerful yet understated gifts is its wise engagement of whole persons--body, mind, heart and soul--for individual and collective transformation.