We will reschedule with Soyinka- stay tuned!
Changing the Race Dance - some events cancelled due to injury
A shorter version of the Milton program will meet.
CC King
,
Lisa Laing
, and
Lisa Ward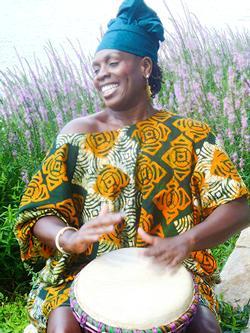 Milton, MA
October 13, Saturday 10-1.
A knee injury has sidelined Soyinka but we're all determined to make new dates so watch for those. And send her healing blessings meanwhile.
Friday's "I Let My Light Shine" is cancelled.
Saturday's adapted Workshop at First Parish in Milton MA: 10 am – 1:00 pm
CC King and Lisa Ward, part of the interplay team, will introduce the vital and uplifting tools of interplay to encourage discovery and affirmation of the experience of our lives. The focus is to move through and around our understandings and misunderstandings about racism.
We will explore together through the lens of music, movement and the sharing of our stories as they arise in creative interaction.
All are welcome. Any age. Any ability. Wear comfortable clothes.
Soup and bread will be offered at lunch. Feel free to bring your own lunch and/or a snack to share.
Sunday & Monday events in Connecticut: Lisa Laing for information about cancellation and rescheduling.
Cost:

free, with offering as you wish
Registration/Information:

information and registration: ccking.interplay@gmail.com and in CT: kineticalchemy@gmail.com

Venue
First Parish Milton
535 Canton Avenue
Milton, MA 02186
Leaders
CC King
CC King is a certified InterPlay Leader and trainer, Boston-area coordinator and a memory play specialist. She has been practicing the joyous unfolding of Interplay for over 15 years. Play with elders and Memory Cafes are a special interest. CC is an expressive therapist, visual artist, teacher and community activist. As the co-founder of a local arts and environment program, she facilitates workshops in organic sculpture and organizes public performance. Her background includes nonprofit management, art and family therapy, trauma-informed InterPlay and a life-long commitment to finding sustenance, creative activism, and joy in the natural world.
Lisa Laing
Lisa Laing is a Certified InterPlay Master Leader, fitness professional and Certified Cancer Wellness Specialist. She incorporates the practices and forms of InterPlay in each of these aspects of her career. Lisa has brought InterPlay to incarcerated women at York Correction Facility in CT, interdenominational clergy groups, as well as students at The Juilliard School, Yale Divinity School and Southern CT State U. Lisa co- developed and co-leads an ongoing cancer wellness group, Hope Is Power, very much informed by InterPlay. Lisa co-leads the InterPlay Life Practice Program and Secrets of InterPlay in the northeast with both Katrina Browne and CC King and is an InterPlay Leader Training Mentor. She currently serves on the InterPlay Body Wisdom Board. "I am blessed to be a part of this world-wide community of creators, instigators, healers, nurturers, adventurers, huggers, grace-operatives, activists, artists; InterPlayers All!"