Fun as a spiritual practice
Come play with us!
Portland Plays
Hilary Martin Himan
,
Laura Play
,
Marci Rau
, and
Cassandra Sagan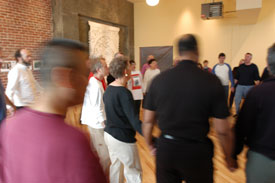 Portland, OR
Third Wednesdays
Engage your creative self…tell a 30 second story. Find your voice. Play at the speed of the body. Dance on behalf of the Ocean. Sing in gibberish. Tell a 30 second story without words. Make a face, make a sound. Shake it out. Dream on your feet. Take a deep breath, and let it out with a sigh.
Cost:

$8-$15 slide
Registration/Information:

cassandra@ukemama.com or hmhiman@gmail.com

Venue
Studio Beit Zusha
Portland, OR
Leaders
Hilary Martin Himan
Hilary first discovered InterPlay as an undergraduate at Macalester College in 1995! She has enjoyed playing with Cynthia and Phil's toolbox (and Cynthia and Phil!) every since, inspired by mentors in Minnesota, Connecticut, and Oregon. Hilary realized if she wanted more friends to play, she probably needed to become a leader, and finally got off her duff a couple years ago to become certified. Hilary works part-time at Lewis and Clark College in the Office of Religious and Spiritual Life, and is kept busy with her two young children and amazing spouse. Hilary enjoys using InterPlay in her college context and elsewhere- inspiring incrementality and trying to live into it all.
Marci Rau
Marci Rau is an InterPlay leader who has worked as a Hospice Chaplain for over 15 years. She enjoys going deeper and broader with individuals and groups as a Spiritual Director.
Cassandra Sagan
Cassandra Sagan is a Maggid, Jewish storyteller/teacher/preacher, and a designated Leitz Kadosh, Holy Clown. She is a poet, singer/songwriter, performer, and InterPlay Leader who has worked with adults and children for over 25 years helping them to access their full creative brilliance.