Voice Medicine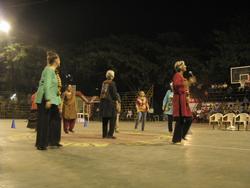 Seattle, WA
Tuesday 2 to 5 pm Phinney Neighborhood Center or Wednesday, June 13th Session 1: 9.30-12.30 pm and/or Session 2: 6-9pm
An opportunity for you to explore aspects of your voice that intrigue and baffle you. We will have time for some individual, pair & group work. Please bring a song you like, either a folk, pop, jazz, rock, lullaby or a song from a musical. You may attend one or both sessions.
Cost:

($60 per session or $100 for both session)
Registration/Information:

Sharie Bowman 253/740-8209 or email infoseattle@interplay.org

Venue
Queen Anne Christian Church
1316 3rd Ave W & W Lee St
Seattle, WA 98119
Neighborhood parking. Along 3rd Ave W there is a single door entrance with a stained glass window beside it. Come in that door and go up the stairs and through the double doors to the Fellowship Hall. Wear layers!
Leaders
Trish Watts
A singer, songwriter, and educator with over 25 years experience as a performer, animator and creative arts facilitator in Australia and overseas. Creative Director for InterPlay Australia, she has completed studies in Voice Movement Therapy in the US. Trish has published over 8 collections of original music. She offers workshops and retreats in singing, creativity, spirituality and body wisdom. For more info see the
International Association for Voice Movement Therapy
,
InterPlay Australia Association
, and in the US: www.Interplay.org