4 Days of Play in the Northern Cal Wine Country
InterPlay Leaders Gathering
InterPlay leaders gather for creativity, connection and fun
Phil Porter
and
Cynthia Winton-Henry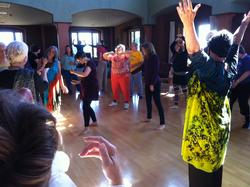 Healdsburg, CA
May 27–31, 2013 • Monday 7 pm (after dinner) – Friday lunch
Welcome seasoned InterPlayers! Join us for the premier InterPlay event on the West Coast for 2012.
Come renew your connections to this creative and visionary community—folks who are playing their way into new life and new possibilities. Need a wonderful retreat in a beautiful location? Join us at Bishop's Ranch!
Inspiring Leaders All Around!
Join InterPlay Cofounders: Phil Porter and Cynthia Winton-Henry and guest teachers, plus opportunities for you to share your interests and skills in special workshops and to get helpful tips from each other.
Special Events
We'll play, create, perform, learn, deepen, lighten up, connect in large groups and small. We'll delight in the gifts of other leaders. We'll remember what is important and celebrate life events, witness special gifts.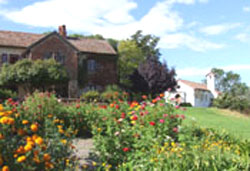 Wine Country Beauty
Bishop's Ranch is a beautiful retreat center in the Russian River Valley about 75 miles north of San Francisco near Healdsburg. Comfortable accommodations and beautiful surroundings make this a delightful and healing place for getting away. The food is great! (and someone else is cooking it and cleaning up afterward!) We will help you get from Bay Area locations to Bishop's Ranch if you need it.
Register early and save!
Special discount! Register before March 29 and get $50 off!
Room and Board: $465/double occupancy (for a single room add an additional $135)
Tuition: $325
Nonrefundable $100 deposit or first monthly installment required to register.
Special Payment Plans
Payment plans available 6 monthly payments (under $162) or 8 payments (under $122) by credit card. A 5% processing fee is included. A payment plan must begin no later than the month of April.
Cost:

See above!
Registration/Information:

510-465-2797 info@interplay.org

Venue
Bishop's Ranch
5297 Westside Road
Healdsburg, CA 95448
Leaders
Phil Porter
Phil is one of the founders of InterPlay. He is a teacher, performer, writer, and organizer. With Cynthia Winton-Henry he is the co-founder of WING IT! Performance Ensemble, and has written several books, some in collaboration with Cynthia, including Having It All: Body, Mind, Heart & Spirit Together Again at Last and The Slightly Mad Rantings of a Body Intellectual Part One. Phil is particularly interested in the use of InterPlay in organizational life, and believes that InterPlay can be a powerful tool to create communities of diversity and peace.
Cynthia Winton-Henry
Cynthia is one of the founders of InterPlay. With Phil Porter she provides leadership around the world to those interested in integrating body wisdom in their life and community practices. Her books include What the Body Wants, Dance: A Sacred Art: Discovering the Joy of Movement as Spiritual Practice, and Chasing the Dance of Life: A Faith Journey, Apocryphile Press and Having It All: Body, Mind, Heart & Spirit Together Again at Last. She administers the Focused Energy Balance Indicator to people interested in their four primary patterns of movement. Visit her blog, Mystic Tech to learn about her soul coaching and other resources.