Unlock the Wisdom of your Body!
Secrets of InterPlay (Racine/Chicago)
Jane Siarny
and
Cynthia Winton-Henry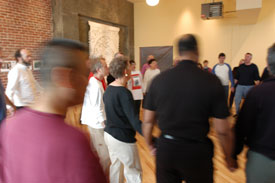 Racine, WI
2012 • Begins with dinner on Thursday, June 21 6:00 pm through Lunch on Sunday, June 24 1:00 pm
Learn how you can use the tools and ideas of InterPlay to unlock the wisdom of your body. Get your body, mind, heart and spirit all on the same page. Learn more about yourself through connection and community. Create more ease and fun in your life. This multiple-day event will give you direct experience in many aspects of the InterPlay system.
It is also an important element of the InterPlay Life Practice Program which will be offered in the Chicago area beginning in the late summer/fall 2012. Dates and location for the Life Practice Program TBA.
Cost:

$350 ($250 for graduates of previous Life Practice or Leadership Programs) $300 for room & board (add $30 for single room) $150 commuter rate
Registration/Information:

Body Wisdom at 510/465-2797

Venue
The DeKoven Center
600 21st Street
Racine, WI 53403
Leaders
Jane Siarny
Certified InterPlay Leader Jane Siarny (M.F.A.) is dedicated to uplifting the human spirit and finding JOY through movement and creative play. She is a trainer in the InterPlay Life Practice & InterPlay Leader Program and performs, teaches and creates community events for all ages and levels of ability. Jane discovered InterPlay when injuries had limited her dance abilities and she was looking for a new way to move from the 'inside out.' In the process she would also discover the joy of storytelling and vocalplay. To spread the amazing work of InterPlay, she co-founded OUTABOUNDS Performance Company in 1994 and it has been going ever since! She lives in a western suburb of Chicago with her husband and 15 year old son. InterPlay helps her navigate the amazing play of relationships, self discovery and connection with spirit. Jane's story can be found in What the Body Wants by InterPlay's creators Cynthia Winton-Henry and Phil Porter.
Cynthia Winton-Henry
Cynthia, co-founder of InterPlay with Phil Porter, is dedicated totransformative wisdom practices that inherently integrate body and soul. Her quest to foster freedom and joy has led her to jails, shelters, slums, hospitals, churches, business's, art communities, and doctoral programs in theology and the arts and multicultural education. A featured speaker on the Body Intelligence Summit, her books include What the Body Wants, Having It All: Body, Mind, Heart & Spirit Together Again at Last, Dance: A Sacred Art: Discovering the Joy of Movement as Spiritual Practice, and Chasing the Dance of Life: A Faith Journey, the story of how attuning to the wisdom of the body led her to be a dancing minister, a professor of dance in a seminary and then radicalized her relationship to her faith. Currently writing on "Ensoulment" she coaches leaders to heed their mystic body wisdom and honor the soul wisdom needed for our time at "Mystic Tech" at cynthiawinton-henry.com.