Embodiment, Fun, Release, Community
InterPlay For Men (drop-in)
Jonathan Leavy
,
Connors John McConville
,
Amos Alan Lans
, and
John Diller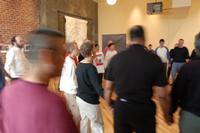 Oakland, CA
on-going drop-in class Thursdays • 7-8:30 pm
Join us as we play, express, and create together. Invite your whole self to join in with rhythm, stories, movement, caterwauling, and more. Amos, Connors, John, and Jonathan share leadership. Second Thursdays each month are special nights for men new to InterPlay, but everyone is welcome on any Thursday. Four times a year, for the classes nearest the solstice and equinox, we invite women and all people of all genders to join our circle and celebrate with us (separate postings also appear for these events).

This is one of several ongoing drop-in classes offered at InterPlayce each week. Now you can do InterPlay whenever you choose!

Engage mind, body, heart, and spirit in an affirming, fun-loving practice with great teachers. Get yourself running on "all cylinders!"

It's easy to learn the simple forms of InterPlay. If you are new you can catch on as you go. Anyone can do it!
Make new friends! InterPlay classes create instant community.
Learn body wisdom tricks and tools to make life easier.
No experience necessary! InterPlay is accessible to people of all ages and abilities.
Get a hit of a whole day's play with other men led by Amos Lans and Phil Porter on Saturday, Sept. 28, 2019...
All of the weekly drop-in classes offered at InterPlayce are rooted in the basics of InterPlay but vary slightly based on the gifts of the teacher. Come find just the right class for you! You can join a class at any point in the season, and take different classes as you choose.
One day I danced,
my people all around me,
was I lonely once?
-- improvised haiku from Thursday night InterPlay
Cost:

$15 per class • $48 for 4 classes (save $12!) • $90 for 10 classes (save $60!)
Registration/Information:

Just show up. Questions? Email Amos Lans by clicking the link below.

Venue
InterPlayce
2273 Telegraph Avenue (at 23rd St.)
Oakland, CA 94612
InterPlayce is the center of the InterPlay universe. The offices for Body Wisdom, Inc. are also located here. The building is at the corner of 23rd and Telegraph, one block north of West Grand. It is just a few blocks from the 19th Street Downtown Oakland BART station, and on several convenient bus lines. On-street parking is always available at night and metered during the day. It is also easily accessible by several of the major freeways.
Click here for a map.