Enter the Living Torah
InterPlay of Kabbalah
Play & Pray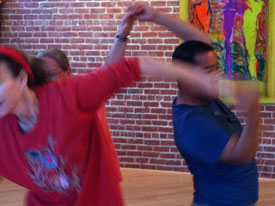 Portland, OR
Second Fridays starting September 2015. Write for details!
We'll start with a word, phrase, or story/image from the weekly Parshah, discover the themes, and explore how they resonate in our own lives. You don't have to be Jewish to love playing with these ancient mystical images as jumpoff points!
Cost:

$8-$15 sliding scale
Registration/Information:

cassandra@ukemama.com

Venue
Studio Beit Zusha
Portland, OR
Leaders
Cassandra Sagan
Cassandra Sagan is a Maggid, Jewish storyteller/teacher/preacher, and a designated Leitz Kadosh, Holy Clown. She is a poet, singer/songwriter, performer, and InterPlay Leader who has worked with adults and children for over 25 years helping them to access their full creative brilliance.