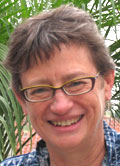 Lake Forest Park, WA
Laurie Rudel
Certified InterPlay Leader
Ordained in the Christian Church (Disciples of Christ in 1988 Laurie served as Pastor of Queen Anne Christian Church in Seattle from July 1991 through February 2017.
In 1995 she began leading InterPlay classes in Seattle. In 1997 she created SpiritPlay (melding InterPlay with worship forms and spiritual practice) for clergy, spiritual leaders and seekers. Since then she has taught Secrets of InterPlay and the InterPlay Leadership Program.
Laurie loves to write, weave, knit, sing, weed, sketch, read, and participate in Modern Western Square Dancing with the Puddletown Squares.
Now in retirement Laurie serves on the Board for the Grunewald Guild in Leavenworth, Washington, a center for the exploration of art, faith, and community. In addition to serving on the Board for the Guild she co-facilitates worship and a class for their Sacred Arts Week.
18514 26th Avenue NE
Lake Forest Park, WA 98155
United States
206-660-9057