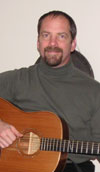 Ithaca, NY
Stan Stewart Sawyer
Certified InterPlay Leader
One thing is clear. I love improvisation. I enjoy it on the stage, in my life, and in my relationships. Nothing is more satisfying, more opening, more informative. I am a dedicated advocate of improvisation and InterPlay as high forms of art.
I enjoy singing, playing guitar and piano, leading InterPlay, stretching myself into new opportunities. I long to be even more playful and I practice singing a simple song in all of my life.
My CD's and MP3's are available at my "play music" site as well as iTunes, CD Baby and so on.
PO Box 645
Ithaca, NY 14851-0645
United States
570/236-8185