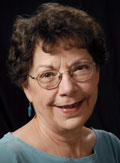 Raleigh, NC
Ginny Going
Life Practice Program Leader
Certified InterPlay Leader
As a recovering serious person, I consider InterPlay my 12-step program and my life practice for having more ease and grace. I've been InterPlaying for 27 years and have watched the blooming and spread of InterPlay all over the world with gratefulness and delight.

For the past 13 years I've been immersed in the development and growth of the Leader Training Program and currently serve as the program coordinator. I love offering people the "big body" tools of InterPlay for telling their stories, especially people on the margins of our communities. I am also passionate about embodied spirituality, engaging people in prayer and worship forms that include and honor the body. It has been an amazing experience to participate in and teach InterPlay in many places around the world.

Currently the Leader Training Program is being reshaped to integrate Racial Equity and Transformation into all aspects of InterPlay leader training. This is truly an exciting and exhilerating time to be part of the world-wide community of InterPlay!
Raleigh, NC 27603
United States
919-412-3851