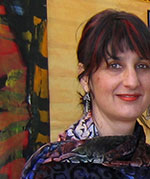 Sedona, AZ
Mary Sobrina Kuder
aka Kuderthanever
Certified InterPlay Leader
2-3D Visual and Performance Artist
Educator
Next generation Arts & social Change Leader
InterPlay Teacher
InterPlay Life Practice Leader
InterPlay/ArtPlay Parties Workshops Retreats
Recovery & 12 Step
At Risk Youth
Cultivating changes...that feel exciting and life enhancing!
Fostering wholeness & Freedom

Mary Sobrina Kuder is an
Internationally recognized visual artist,
Mary is also a performer, costumer,
group facilitator and spiritual student.
She offers the fruits ot her multi-facetted
Approach to life with unique, life-enhancing
Workshops.
Her goal: To challenge, empower and
Inspire participants to see the world
and themselves anew.
To explore their own creative, authentic core
And their connection to others.
Her workshops are both playful and spririt filled

"I believe in embracing all the joys and
Challenges of life" Mary says, "This creates a
Rich canvas that is my work and my life."
Her life journey thus far is rich indeed. Of
French and Native American descent, she is
Multi-lingual multi-cultural, living, creating,
And working in Mexico, as well as with the
Indigenous people of Central Australia.
Being challenged at a young age by alcohol
Mary is grateful to be in recovery
for over 25 years.
In 1990 Mary discovered InterPlay
And has been a Certified InterPlay Life
Practice Leader since 1995. She has led
ARTPlay on Alternative Education campuses
with At Risk youth. She also creates
Unique workshops, playgroups,
Events and retreats for individuals, groups
And Corporations.
Her paintings have been shown at MOCA in Los Angeles,
San Francisco Museum of Modern Art Rental Gallery,
M.H.de Young Museum San Francisco as well as
Public and Private Collections around the world.
She has performed in The Unbelievable Beauty of
Being Human in Oakland, San Francisco, Mendocino,
Nashville, Sedona, Santorini, Sydney, Adelaide.

345 Price Rd.
Sedona, AZ 86336
United States
928-862-2131