Unlock the Wisdom of Your VOCAL Body
InterPlay Tools & the Voice - Jun-Aug 2023 Online
Dive into InterPlay's Body Wisdom Tools with a special highlight on VocalPlay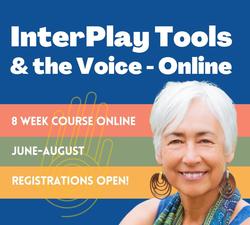 ONLINE
8 Weekly sessions

Tuesdays in the U.S. 4:30-6:30 PT
June 6 - August 1, 2023

Wednesdays in Australia 9:30-11:30 am AEST
June 7 - August 2, 2023
Interested in diving deeper into the InterPlay philosophy?
You may take this course as a stand-alone experience and has no pre-requesites.This course can also serve as a refresher if you have previously participated in the Life Practice Program or a Secrets of InterPlay and want to play with the Body Wisdom Tools of InterPlay in a fresh new way exploring the Vocal Body.
Australia InterPlay co-founder and voice expert Trish Watts debuts this Vocal Play variation
on the Online Body Wisdom Tools.
Trish has been a primary leader in exploring how we use voice, sound, and singing in InterPlay,
bringing to bear her experience as a singer, composer, performer, choir leader and practitioner of Voice Movement Therapy. She is a warm, open spirit encouraging everyone, including the most timid, to unlock the wisdom of their voices. She has taught all over the world.
Dive deeply into your own life questions
and play with InterPlay's Body Wisdom Tools using voice, song, character voices, story, and movement. Enjoy the witness of others who appreciate the wisdom of InterPlay improvisation.
Experience the power of connection through time and space
as you play from your own location with an online community.
Schedule

Tuesdays in the U.S.
4:30-6:30 PT (5:30 MT, 6:30 CT, 7:30 ET)
June 6-August 1: 8 weekly sessions

Wednesdays in Australia
9:30-11:30 am AEST
June 7 - August 2: 8 Weekly sessions

Note: No class on July 4 (US) / July 5 (AUS)

This course can be taken on its own or as an element of the Self-Paced Life Practice Program and is designed for people who need more flexibility to complete the components of the Life Practice Program. If you enroll in this course, the cost will be applied to the tuition for the whole Life Practice Program.


Financial Assistance
Diversity is a great gift in the InterPlay experience. Based on our commitment to Racial Equity and Transformation (read our statement here) and our understanding of other structural and personal inequalities that exist, Body Wisdom is committed to making our programs financially accessible.

Financial considerations need not be a barrier to your participation. Financial support and flexible payment plans are available. Please email Angela at info@interplay.org (or call 510/465-2797), or feel free to speak to one of the leaders of this program.


Continuing Education Credit
Up to 16 CE credits for various healthcare and allied healthcare professions are available for those practicing throughout the U.S. and for educators only practicing in Illinois. CE pre-registration is required before the start of your event. Email Jane Siarny at interplaychicago@sbcglobal.net to APPLY for CEUs. There is a charge of $25-$40 per program. CEUs are offered through Continuing Education Institute of Illinois


Cost:

$400 USD ($300 USD for Life Practice Program grads)
Registration/Information:

Registration Questions, email: office@interplay.org. For financial assistance, email: info@interplay.org.

Leaders

Trish Watts

Trish Watts A singer, songwriter, educator and community choir director, with over 40 years experience as a performer, animator and creative arts facilitator in Australia and overseas. Co-founder of InterPlay Australia, she has completed studies in Voice Movement Therapy in the US. Trish has published over 10 collections of original music. She offers workshops and retreats in singing, creativity, spirituality and body wisdom. For more info see the

International Association for Voice Movement Therapy

,

InterPlay Australia Association

, and in the US: www.Interplay.org