Revolutionary Love Practice-Play Group
Explore & practice a counter-intuitive approach to transforming the World, making love a public ethic
Wai-Chin Matsuoka
and
Karen Hatch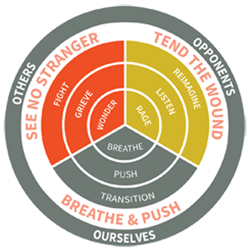 ONLINE
Dates: 2nd Mondays of the Month Time: 3:45 - 6:00 pm PT / 5:45 - 8:00 pm CT / 6:45 - 9:00 pm;
This September Wai-Chin and Karen will offer a course using InterPlay and Valarie's Kaur's Revolutionary Love Compass to explore & practice a counter-intuitive approach to transforming the World, making love a public ethic when rage as well as social and racial upheaval so often seem to surround us these days.
Valarie Kaur, the author of See No Stranger - A Memoir & Manifesto of Revolutionary Love "envisions a world where love is a public ethic and shared practice in our lives and politics. ..... Revolutionary love is the choice to enter into labor for ourselves, for others, and for our opponents, in order to transform the world around us."
This practice-play group will explore the ten practices of the "Revolutionary Love Compass." We meet once a month on the 2nd Mondays of the month for 2 hr 15min-session. Our hope is to engage in one practice a month to labor in love for ourselves, for others, and for our opponents in order to transform the world.
There will be the option of joining a buddy support system during the month and "home practices" where you can choose to engage in that month's emphasis. The immersion of that practice that month will change our neural pathways, rewire our brains and discover that we can begin to live into a new way of thinking.
Financial support for this project has been provided by the Racial Equity and Transformation Grant through InterPlay.
Commitment: A commitment to the ten sessions is required. Class will be recorded if you have an unexpected circumstance that requires you to miss a class. After October, the class will be a closed group.
Dates: 2nd Mondays of the Month
Time: 3:45 - 6:00 pm PT / 5:45 - 8:00 pm CT / 6:45 - 9:00 pm; please double-check your time zone for the right time.
Venue: Online; Zoom link will be sent to you via an Order Confirmation Email once you are registered.
Cost: $25 per session - Register at Eventbrite.

Scholarships: The financial support from the RET Grant through InterPlay enables us to provide 5 scholarships to any Black, Indigenous Persons of Color on a first-come-first-serve basis. Your cost is $5 per session and your commitment to all 10 sessions is required. Please email Wai-Chin Matsuoka at TheRestingPlace@Ymail.com for details and payment.
Financial Assistance: If you don't qualify for the scholarships but still need financial assistance, please email Wai-Chin Matsuoka at TheRestingPlace@Ymail.com for details. We do not want finances to be a barrier to the opportunity to participate in this practice-play group.
Cost:

$25 per session
Registration/Information:

Wai-Chin Matsuoka at TheRestingPlace@Ymail.com

Leaders

Wai-Chin Matsuoka

Wai-Chin is Singaporean Chinese, who was transplanted to the U.S.A. 35 years ago when she came to do her graduate studies, and met her American-Japanese husband.

She encountered InterPlay in 2012 when Cathy Ann Beaty was moderating the Spiritual Directors International Conference. Totally amazed by the impact of a hand-blessing, Wai-Chin found Jane Siarny in Geneva, IL and was attending classes on and off for several years before taking the Secrets retreat and the Life Practice program in 2018. And even before the end of the Life Practice program, attended the Secrets of Leading in Oct 2018, and completed her requirements in Oct 2020!

She describes herself as a manifestation of Divine Love, and she embodies
Hospitality that welcomes all,
Gentleness that comforts,
Truth that heals and
Compassion that equips, in her life and in service of those who cross her path.

As a spiritual midwife, she companions others on their spiritual path of transformation. As a dancing healer, she facilitates healing through experiential encounters with the Divine Physician and dances on behalf of their wounds and grief, and desires and hopes for wholeness. As a lavish host to the Divine Banquet of Love, Wai-Chin facilitates Soul-Tending Retreats that awaken your desire for deeper intimacy with God, in the same way hors d'oeures whet the appetite for a banquet.

Karen Hatch

Karen identifies as both a "free agent" and healing justice advocate and wants to play with everyone! With a background in hospice nursing and youth ministry she is dedicated to being present to the unbelievable beauty of being human in all people across the lifespan. She is particularly committed to racial equity and transformation and is an activist, facilitator, community organizer and student at home in rural Virginia and beyond. Karen is a Certified InterPlay leader and singer/songwriter.