Refining and claiming our wisdom and our truth
Exquisite Body Data
with InterPlay Co-Founder Phil Porter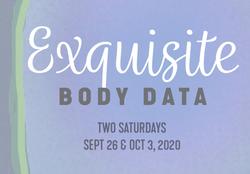 ONLINE
Two Saturdays • Sept 26 & Oct 3, 2020 • 9:30–11:30 am & 1–3 pm PT (12:30–2:30 pm & 4–6 pm ET)–
In this time when "truth" is on the line, how do we fully claim what we know for ourselves, our communities, and the world?
InterPlay is a powerful way to unlock our body wisdom, which is most effective when it is rooted in carefully noticed body data.
In this two-Saturday class, Phil will share ideas and tools to refine our noticing and more fully claim our inner authority. We will notice our own experience, but even more importantly, we will hone our ability to see and hear what is going on around us and understand it more clearly.
The result will be enhanced health and wholeness as we make wise choices and stand up for what we know, even in the face of what seems to be daunting external forces.
We will tell stories and play, accessing the full range of what we know. We will also challenge ourselves to a higher level of discernment that asks for honesty and clarity.
We will value both objectivity and subjectivity. We will explore the difference between what we "know" and what we "believe." We will learn to be careful observers of the world around us. We will notice and honor how different life experiences lead to different body wisdom and different belief.
We will use the InterPlay tool of Body Data/Body Knowledge/Body Wisdom and also see how it intersects with Inner Authority, the Physicality of Grace, Body Wisdom Practices, and Incrementality.
We will explore how refining our body wisdom makes it possible for us to cast aside unhelpful and unhealthy social constructs. We will explore how re/forming our own lives might help us re/form our communities and our world.
Tuition is $150–$225 sliding scale. No-one turned away for lack of funds. For additional tuition options email phil@interplay.org.

Cost:

$150–225 sliding scale. No one turned away for lack of funds.
Registration/Information:

Use the PayPal button above or email phil@interplay.org for information or scholarship questions.

Leaders

Phil Porter

Phil is one of the founders of InterPlay. He is a teacher, performer, writer, and organizer. With Cynthia Winton-Henry he is the co-founder of WING IT! Performance Ensemble, and has written several books, some in collaboration with Cynthia, including Having It All: Body, Mind, Heart & Spirit Together Again at Last and The Slightly Mad Rantings of a Body Intellectual Part One. Phil is particularly interested in the use of InterPlay in organizational life, and believes that InterPlay can be a powerful tool to create communities of diversity and peace.