With African Drums, Chants & Interplay
Dancing with the Ancestors
Healing the Past ..... Creating the Future
Masankho Banda
and
Joan Greenwood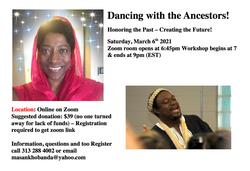 ONLINE
Saturday, March 6th 7pm to 9pm EST
Join Joan and Masankho for a time of remembering, celebrating and honoring those who have gone before with a wonderful combination of Interplay, storytelling, dance and African ritual. We have just ended African American History month and so it is appropriate for us to have this time of reflection. This will be a time to share songs, stories, dances and instrumental music. Our time together and the combination of Interplay and African Ancestor Ritual will be guided by spirit: Things to bring for the Alter: Pictures and mementos of loved ones who have passed. Artifacts that are a representation of your cultural heritage etc If you play an acoustic instrument and can improvise you are welcome to bring it
Cost:

Suggested donation $39 - no one turned away
Registration/Information:

313/288-4002 / masankhobanda@yahoo.com

Leaders

Masankho Banda

Masankho is a multi - disciplinary Performing Artist, Certified InterPlay Leader, Educator and PeaceBuilder. He brings many unique perspectives to his work around the world. He learned the fine arts of storytelling and dance from his Malawian culture spending many long days and nights listening to stories and dancing to music that captivated his mind, shaped his being, nourished his soul and strengthened his spirit. Using performing arts Masankho motivates and inspires people of all ages to work together to bring about peace, social justice and cultural understanding. In 1997, he started UCanDanc—African Healing Arts to bring his passion for dance and storytelling to communities around the world. Masankho has been a Certified InterPlay Leader since 1999.

Masankho can also be reached at these phone numbers: +265 99 255 5338 or 88 113 8655 (available on Whatsapp / FaceTime)

Also: Skype : kamsisi
Facebook / Twitter: storytelling4u

Joan Greenwood

Joan Greenwood is the founder of the LovingKindness Week in Cleveland Ohio. She is also recognized in this city as a respected InterPlay Leader inTraining. Joan was born in Jamaica. Joan's Caribbean upbringing led her to develop her passion for movement, her love of nature and her embodied learning skills to support others to be able to tune into the wisdom of their own body. Joan Greenwood's academic history includes a degree in Human Services from Bunker Hill College, and two Bachelor of Science degrees, one in Sports Management from the American University and the other degree in Health and Wellness from Kaplan University. Having been an InterPlayer since 2014, Joan's skillfulness manifests in her teaching others how to be joyful, how to develop playfulness skills, how to honor their own Body Spirit, and how to have the experience of loving their own body more deeply. Joan's students learn to be aware of the frequencies of energy vibrations in their body as they grow in developing forms of dance movements, and mindfulness breathing practices. It can be said of her programs that many participants may learn to experience the wisdom of their own body creating healing within themselves and for the well being of others.