Moving Online! 5 days of deep play and leadership wisdom
InterPlay Leaders Gathering 2020 Online!
Open to all Life Practice and Leader Training participants and grads
Phil Porter
,
Cynthia Winton-Henry
,
Agnotti Cowie
,
Masankho Banda
,
Carolyn Renée
,
Linda Schlabach Miller
, and
Jennifer Denning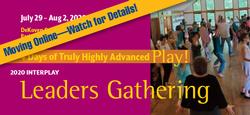 Online, ONLINE
Wed July 29 – Sun Aug 2, 2020 • See times below
NOTE: If you are registered for this event, you should be receiving emails with Gathering details and Zoom links. If you are not, email office@interplay.org or info@interplay.org.
Come gather for the ultimate celebration of InterPlay's 30th Anniversary!
This year's annual Leaders Gathering will be held online. Each day we learn more and more about Zoom possibilities and how we can do that in a body-wise way. This year's Gathering will be cheaper, easier to get to, and will allow a wider range of folks to attend. You can pick and choose the time slots that work best for you and match your "Zoom attention span." Also, check out the first Side-by-Side International Leaders Gathering held at the same time, organized around leaders and time zones in the Eastern Hemisphere.
This event is open to all Life Practice Program and Leader Training Program grads as well as those currently taking part in either program (or who took part in earlier versions of either program). Art & Social Change grads are also welcome to attend.
Register early and save $25!
Tuition is $275 on or before June 30. $300 after that. Reduced tuition is available as well as payment plans. Contact Stephanie at info@interplay.org to make arrangements.
Leaders who offer a workshop will receive and additional $50 off tuition if you submit your workshop by June 30.
We will have whole group sessions, opportunities to move together in large and small groups, a whole range of informative, interesting, and playful workshops, and wonderful opportunities to see old friends and make new ones.
This event will also be the "big finish" to our year-long celebration of InterPlay's 30th year, where we will reaffirm our commitment and actions for racial equity and transformation and inspired, intergenerational community. On Saturday, we will have a special event to mark the occasion as we look forward to the next 30 years.
Sessions will be scheduled in a way to accommodate most US times zones and also provide a bit of of overlap with those in other countries. We are also hoping to provide a parallel event for those on the other side of the world from the United States.
Wednesday, July 29 – Sunday, Aug 2, 2020
Pacific Time
Wed–Sat • 9 am – 6 pm PT
Sun • 9 am – 1 pm PT
Mountain Time
Wed–Sat • 10 am – 7 pm MT
Sun • 10 am – 2 pm MT
Central Time
Wed–Sat • 11 am – 8 pm CT
Sun • 11 am – 3 pm CT
Eastern Time
Wed–Sat • noon – 9 pm ET
Sun • noon – 4 pm ET
InterPlay leaders will be invited to submit workshop proposals in advance, and we will also have time slots for more impromptu gatherings of people who share particular interests.
Registration
Register yourself and, if you can, help someone else with a full or partial scholarship!
Cost:

$300 / Early Registration DISCOUNT - $275 by June 30, 2020. Reduced tuition available - email info@interplay.org
Registration/Information:

Questions? Email us at info@interplay.org

Venue
Online
Online, ONLINE
This will be an online event which could originate from anywhere in the world and would be open to anyone around the world.