Online! 5 days of deep play and leadership wisdom
InterPlay Leaders Gathering 2022 Online!
Open to all Life Practice and Leader Training participants and grads
Phil Porter
,
Agnotti Cowie
,
Masankho Banda
,
Carolyn Renée
,
Ade Anifowose
, and
Jennifer Denning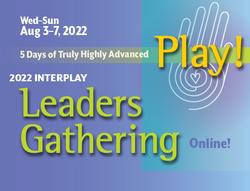 ONLINE
Wed–Sun Aug 3–7, 2022 • See times below
This year's annual Leaders Gathering will be held online. This year's Gathering will be cheaper, easier to get to, and will allow a wider range of folks to attend. You can pick and choose the time slots that work best for you and match your "Zoom attention span."
This event is open to all Life Practice Program and Leader Training Program grads as well as those currently taking part in either program (or who took part in earlier versions of either program). Art & Social Change grads are also welcome to attend.
Register by June 30 and get $25 off!
Tuition is $275 if you register by June 30 and $300 after that. Reduced tuition is available as well as payment plans. Contact Lucia@interplay.org for financial assistance and/or to set up a payment plan.
Leaders who offer a workshop will receive an additional $50 off tuition if you submit a workshop. Workshop proposals are still being accepted.
We will have whole group sessions, opportunities to move together in large and small groups, a whole range of informative, interesting, and playful workshops, and wonderful opportunities to see old friends and make new ones.
Sessions will be scheduled in a way to accommodate most US times zones and also provide a bit of overlap with time zones that work for participants in other countries.
Wednesday–Sunday, Aug 3–7, 2022
Pacific Time
Wed–Sat • 9 am – 6 pm PT
Sun • 9 am – 1 pm PT
Mountain Time
Wed–Sat • 10 am – 7 pm MT
Sun • 10 am – 2 pm MT
Central Time
Wed–Sat • 11 am – 8 pm CT
Sun • 11 am – 3 pm CT
Eastern Time
Wed–Sat • noon – 9 pm ET
Sun • noon – 4 pm ET
InterPlay leaders will be invited to submit workshop proposals in advance, and we will also have time slots for more impromptu gatherings of people who share particular interests.
Registration options below!
Register yourself and, if you can, help someone else with a full or partial scholarship!
Cost:

$275 by June 30/$300 after that. Reduced tuition available - email Lucia@interplay.org
Registration/Information:

Registration questions or for financial assistance: email Lucia@interplay.org