SACRED PLAY
International Week of InterPlay 2023
Sat, Oct 14 - Sunday, Oct 22nd, 2023



Free FUNdraiser of events, workshops, performances and more!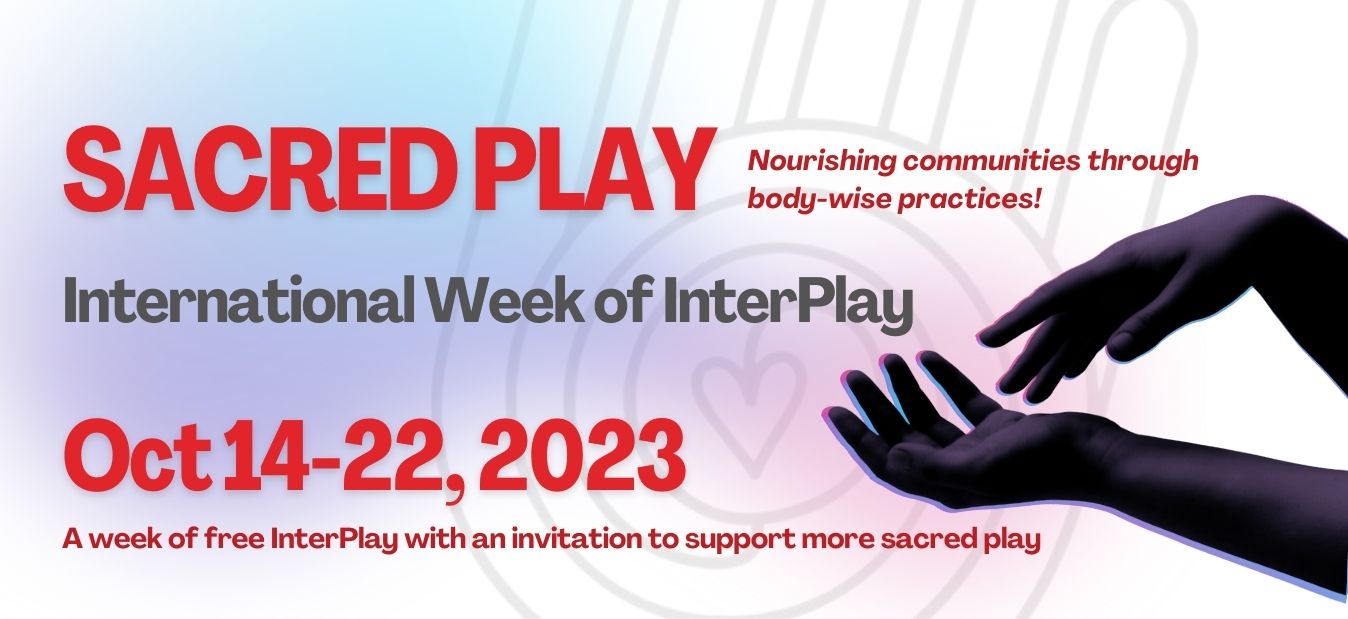 Register for International Week of InterPlay!
Get all the updates about what will be going on during this extended week of fun.
Make a contribution to sustain community joy through a sense of Sacred...
InterPlay is an organization that has been changing lives for over 30 years by unlocking the wisdom of the body through movement, storytelling and voice.
We are having a FREE FUNdraising on October 14th - 22nd with over 40 online and in-person events!
The week will culminate in an InterPlay-style performance co-directed by Carolyn Renée and Agnotti. Relish in the theme of Sacred Play by witnessing the spontaneous creation of story, sound, movement and stillness.
Giving Wings Performance!
October 22nd
1.5 hours
2pm PT | 3pm MT | 4pm CT | 5pm ET
Come find out about this incredible practice by registering for this free week of InterPlay:
During these events, there will be an invitation to support InterPlay, an organization that has been changing lives for over 30 years!! We will be raising funds so that people around the world can feel connected to the wisdom of their bodies as well as feel connected within a sacred community, by being seen, felt, and heard. InterPlay is in so many places and is a worldwide movement that offers:
- Practices that provide tools to activists
- Transformative play in educational settings
- Ritual spaces where people can move and dance with their grief
- Racial Equity Mini-Grants
- Loving Container Focus Session for Black Indigenous, People of Color who are experiencing grief
- Liaison stipends to support leaders who are producing compelling and profound programming
- Scholarship support for skilled and talented leaders (it takes around US$4,000 for one person to complete the Leader Training program and we provide generous scholarships for all who need them).
And so much more!!!
Please consider coming to the week and supporting more transformational play in the world! Invest in the change you want to see in the world, by contributing to a body-wise future!