The richness of our lineage lives in our cells.
Body Wisdom Practices for BIPOC
Reclaiming what we already know
Kira Allen
and
Kelsey Blackwell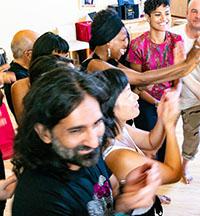 Oakland, CA
Wednesdays, 6:30 to 8:30 p.m. (Sept. 4 – Oct. 2)
The issues are in your tissues, but the stars are in your scars
-
Sebene Selassie
Even if we don't "know" the body wise ways of our people, we KNOW them.
The richness of our lineage lives in our cells.
In this 5-week series will use the tools of InterPlay as well as other somatic practices to connect with the wisdom that's carried through from generation to generation. This deep knowing has all the information we need to live our lives with more resiliency, freedom and joy and is necessary for upending the harmful systems that seek to keep us fearful, angry, overwhelmed and depressed. As Buddhist teacher Sebene Selassie reminds us, "The issues are in your tissues, but the stars are in your scars."
In our time together, we will lift our voices, move our bodies, share our stories and make time just to be. We will be witnessed. We will hold space for each other and
we will come back over and over again to making contact with what our bodies are communicating and trusting that truth.
This space, specifically for BIPOC, aims to support us in putting down the burden of "taking care" and to instead take up space in the ways that feel the most nutritive towards our own resiliency.
Let us taste the sweetness of being together so that we may bring more of this fullness to our daily lives, relationships, and the meaningful work we're called to do.
Let us empower the fullness of our radiance (gathered from the stream of our rich lineage) to flow forth.
This series will support participants to: • Connect more deeply with the wisdom of the body • Drop out of the head and into the present moment • Learn a joyful form for improvisation • Practice synchronizing mind and body • Name and claim more joy, freedom and expression
This class is open to anyone who identifies as Black, indigenous or as a Person of Color who wants to develop and deepen practices for more embodied living.
Register here...
Accessibility info:
This workshop is at InterPlayce, the home of InterPlay. Yay! The space is wheelchair accessible, with all activities happening at ground floor.
To support the space, please don't use any fragrances or scented products.
Join our
Facebook Group
for more info and to hear about more class offerings.
Cost:

$100 per person or $150 for you and a friend (that $75 each or 25 percent off)
Registration/Information:

See Link

Venue
InterPlayce
2273 Telegraph Avenue (at 23rd St.)
Oakland, CA 94612
InterPlayce is the center of the InterPlay universe. The offices for Body Wisdom, Inc. are also located here. The building is at the corner of 23rd and Telegraph, one block north of West Grand. It is just a few blocks from the 19th Street Downtown Oakland BART station, and on several convenient bus lines. On-street parking is always available at night and metered during the day. It is also easily accessible by several of the major freeways.
Click here for a map.
Leaders
Kira Allen
This Oakland based author, artist, activist, advocate, facilitator and InterPlay leader holds an M.A. in Transformative Arts from John F. Kennedy University, and a B.A. in English/Creative Writing from Mills College. Finding her own voice through poetry and artistic expression inspires her work with students from age 4 to 74 in classrooms, homeless shelters, churches, non-profits and intimate circles inside people's homes Ms. Kira delivers phenomenal workshops and performances to empower her community. Her poetic memoir, Write This Second, was published in April of 2015.
Kelsey Blackwell
Kelsey Blackwell is a writer, facilitator and coach working at the intersections of social justice, spiritual practice and creative expression. She is devoted to creating a more just, fair and inclusive society by bringing somatic practices into diversity, equity and inclusion work in schools, cooperate offices and at nonprofits. Her writing has been published in Ebony, Southern Living, Cooking Light and The Arrow: A Journal of Wakeful Society. She holds a Master's degree in Magazine publishing from the Medill School of Journalism at Northwestern University. She's also a Certified InterPlay Leader, on InterPlay's Racial Equity and Transformation Committee and a graduate of Karuna Training, a two-year training in contemplative psychology. Follow her writing and hear about upcoming workshops at kelseyblackwell.com.