InterPlay
With Masankho Kamsisi Banda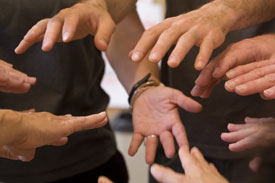 Goshen, IN
Saturday, January 12, 1:30 - 4:30
Looking for human sustainability and play in the face of these stressful times? Come to an afternoon of connection of body, mind, heart, and spirit.
Cost:

Donation $0 - $30
Registration/Information:

Rianna Isaak-Krauss at reisaak@ambs.edu or call Linda Schlabach Miller at 574-538-8324

Venue
Assembly Meetinghouse
1201 South 11th Street
Goshen, IN
Park in lot off of New York St. Enter south door (closest to the parking lot).
Leaders
Masankho Banda
Masankho is a multi - disciplinary Performing Artist, Certified InterPlay Leader, Educator and PeaceBuilder. He brings many unique perspectives to his work around the world. He learned the fine arts of storytelling and dance from his Malawian culture spending many long days and nights listening to stories and dancing to music that captivated his mind, shaped his being, nourished his soul and strengthened his spirit. Using performing arts Masankho motivates and inspires people of all ages to work together to bring about peace, social justice and cultural understanding. In 1997, he started UCanDanc—African Healing Arts to bring his passion for dance and storytelling to communities around the world. Masankho has been a Certified InterPlay Leader since 1999.
Masankho can also be reached at these phone numbers: +265 99 255 5338 or 88 113 8655 (available on Whatsapp / FaceTime)
Also: Skype : kamsisi
Facebook / Twitter: storytelling4u