Play, Awaken, Move into Ease
3rd Sunday BodySpirit Celebrations*
*in the spirit of BodySpirit Celebrations!
Áine deDanaan
and
Judith Reichsman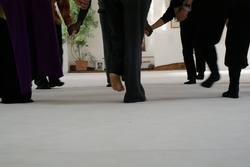 Keene, NH
3rd Sunday of the Month, 3-4:30pm
Cost:

$10-$20 sliding scale
Registration/Information:
Venue
Monadnock Aikikai
152 Davis Street
Keene, NH 03431
Monadnock Aikikai is a Japanese Martial Arts Studio,132 Davis Street, Keene, NH 03431 and located at the corner of Davis and Ralston Streets. Davis Street is off Main Street, a few streets south of the Colonial Theatre. It is a street level walk-in facility blessed with lots of windows and light... and a 6-inch deep mat covers the entire floor! There are bathrooms, changing rooms and a refrigerator to keep light snacks during a workshop or class. Free parking right outside the door. Enter at marked door located at the back of the building.
Leaders
Áine deDanaan
Áine deDanaan is a certified InterPlay Leader who has been participating in, leading, and working with InterPlay since 2000. She is a wise bodyworker who blends ancient Traditional Chinese Medicine with her own BodyWisdom into her highly skilled bodywork techniques. Áine received her Master's of Divinity from Pacific School of Religion, Berkeley, CA in 2003 where she studied dance & creative arts as tools for transformation and worship, spirituality, dream work, and theology. Áine believes in making meaningful connections with all of the people with whom she works. She brings a multitude of skills, as informed by her life experiences and education, to her bodywork and InterPlay teaching.
Judith Reichsman
Judith Reichsman met InterPlay co-creators Cynthia and Phil at an InterPlay workshop in Berkeley, CA in 1989. She became an 'ecstatic follower' within a week of being introduced to it. She moved to Berkeley to go to Grad school where Cynthia was teaching so that she could to do more InterPlay and learn to teach it. Years later, she moved to North Carolina in order to do more InterPlay, and after 3 years of performing with interPlay NC's OFF THE DEEP END, moved back to Vermont to find 'InterPlaymates' there. She has Masters degrees in Dance and Theology and loves both leading and following, fullness & stillness, writing and playing.