Have fun with our beloved InterPlay Seattle community!
El Dia De Los Muertos International Day of InterPlay Celebration
Celebrate InterPlay as an International movement!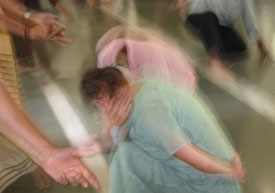 Seattle, WA
Saturday, October 27th 10:00 am to 2 pm
El Dia de los Muertos is a joyous Mexican holiday. It is the one day of the year when your departed loved one has permission to come back to the land of the living to celebrate with you. We will dance on behalf of and share stories of our loved ones. Bring a favorite snack of your dearly departed to share if you wish. They will be hungry when they arrive. A light lunch will also be provided. Please bring a picture or some memento of those you would like to honor (including pets) to put on the altar.
It is also the day we will be celebrating The International Day of InterPlay. InterPlay communities around the world are gathering on this day to celebrate InterPlay and raise money for scholarships. Come learn what is happening around the world in a special video surprise that each community will see. There will be opportunity to contribute to the InterPlay movement to provide more peace and play in the world.
This celebration with be co-hosted and led by Janice Eng and Sharie Bowman with support from the InterPlay Seattle Sounding Board.
Cost:

Free (Donations welcome to support the InterPlay Seattle Scholarship fund)
Registration/Information:

Sharie Bowman at interplaynorthwest@gmail.com

Venue
Queen Anne Christian Church
1316 3rd Ave W & W Lee St
Seattle, WA 98119
Neighborhood parking. Along 3rd Ave W there is a single door entrance with a stained glass window beside it. Come in that door and go up the stairs and through the double doors to the Fellowship Hall. Wear layers!
Leaders
Sharie Bowman
Sharie Bowman, MA is a Mental Health Counselor and Regional InterPlay Leader. She has been leading InterPlay since 2004 and has co-led six Life Practice Programs. She is particularly intrigued with the potential InterPlay has to support people to create healthier lives by following the wisdom of their bodies and taking the lead in their own lives. In her private practice she regularly weaves InterPlay's life-enhancing forms and philosophies to help individuals and families thrive. For over 20 years, she has been exploring the wisdom of the body through a variety of modalities including InterPlay, Authentic Movement, Core-Energetics, and Biodynamic Psychotherapy.