Change Your life! Change Your World!
The Secrets of InterPlay
Jennifer Denning
,
Christine Gautreaux, LMSW
, and
Carolyn Renée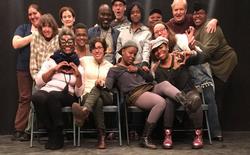 Atlanta, GA
Friday, September 28th, 7-9 p.m., Saturday, September 29th, 9:30 a.m.-7 p.m.; Sunday, September 30th, 9:30 a.m.-4 p.m.
Learn how you can use the tools and ideas of InterPlay to unlock the wisdom of your body. Get your body, mind, heart, and spirit all on the same page. Learn more about yourself through connection and community. Create more ease and fun in your life. This multiple-day event will give you direct experience in many aspects of the InterPlay system developed by Cynthia Winton-Henry and Phil Porter over the last 28 years.
Continuing Education Credit
15 CE credits for various healthcare and allied healthcare professions are available for those practicing throughout the U.S. CE preregistration deadline is no later than 2 weeks before the start of your event. Notify Body Wisdom staff at time of registration that you are requesting CEUs. Indicate the profession (E.g. LCSW) and the state you have your license in (E.g. MI). A CE fee of $15 will be due once your profession and state are approved. CEUs are offered through
Continuing Education Institute of Illinois.
Cost:

$400 tuition ($300 for repeaters)
Registration/Information:

510/465-2797 or info@interplay.org

Venue
St. Luke's Episcopal Church
435 Peachtree St Ne
Atlanta, GA 30308
Free Parking
Leaders
Jennifer Denning
Jennifer Denning is the co-founder of InterPlay Atlanta. She launched InterPlay Atlanta's offerings with women in prison and teaches weekly at The Atlanta Pretrial Detention Center. She also regularly leads InterPlay at Trinity House and The Friendship Center. She is an InterPlay Life Practice Program leader and directs Atlanta's InterPlay performance group, Soulprint Players.
Christine Gautreaux, LMSW
As a Licensed Master Social Worker, Christine uses InterPlay in a variety of settings and workshops with her peers and clients. She enjoys taking InterPlay and performance into underserved communities. She has worked with women in Lee Arrendale State Prison and the pre-trial detention center in Atlanta, GA. Christine also uses InterPlay with her Life Coaching Clients and in her workshops with foster/adoptive families. Dedicated to the pursuit of play, joy, laughter and love, Christine enjoys InterPlay, yoga, blogging, DCP, triathlons, family & friends and tea. Her superpowers include connecting people, helping folks manifest their dreams and juggling a full delightful life.
Carolyn Renée
Carolyn Renée Morris, is a teaching and performing artist, organizer and administrator. She is also former Executive Director of Alternate ROOTS, a nonprofit that supports the creation and presentation of original art rooted in communities of place, tradition or spirit. Since the early 2000s, through her work with Alternate ROOTS, and the Mississippi Arts Commission she worked closely with nonprofit community and arts organizations throughout the southeast United States and the District of Columbia to organize workshops, learning exchanges, retreats, showcases and member gatherings. Carolyn Renée is a teaching artist with Synchronicity Theatre's "Playmaking For Girls" program. Playmaking for Girls empowers incarcerated girls, refugees, and foster care girls through the medium of play-writing, theatre games, and performance. In 2015, she received funding from The City of Atlanta's Office of Cultural Affairs for her original play, The Mother Daughter Dialogues. Carolyn Renée is also a singer, songwriter and storyteller. In the InterPlay organization, she is a Co-Liaison Leader to InterPlay Leaders and People of Color. In May 2017, she served as the lead organizer for the first ever InterPlay People of Color Retreat. From a family of healers, she's a Third Degree Reiki Master offering Reiki certifications throughout the United States in partnership with A Life of Peace Education and Wellness Institute. She uses "Carolyn Renée" as her full name