Resilience Practices for a Culture of Embodied Resistance and Lively Emergence
2nd Annual Earth Body Wisdom InterPlay Convergence
"Being River"
Laurie Adams
,
Christine Gautreaux, LMSW
, and
Nika Quirk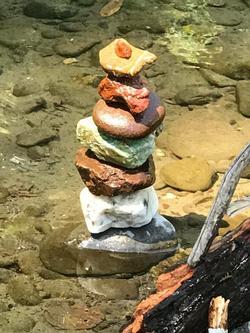 Philo, CA
July 19th - July 22nd This year we are looking to start on Thursday evening so we can have two full days Friday and Saturday and Sunday morning of play. This extended schedule will allow for a trip to ocean for ceremony.
Save the Date for the 2nd Annual Earth-Body Wisdom InterPlay Convergence Resilience Practices for a Culture of Embodied Resistance and Lively Emergence It's time again! The earth offers a dream and call that is moving through us. We invite you as earth-body wise beings to gather and catalyze the seeds in each and all of us. In the midst of resistance, we play with living into the beautiful world we know is possible. Weekend Retreat and Village Convening July 19th - 22nd River's Bend Retreat Center, Philo, CA Co-Diviners, Co-Inspirators, Elements at Play: Laurie Adams, Nika Quirk, Christine Gautreaux & Diana MorningStar Why? We need the group body to inspire, co-create and witness... and to: Activate hope Strengthen resilience Deepen relationship to each other and the more-than-human world Create shared stories of real and mythic times What? Sit, breathe, stand, root down, create ceremony, swim and walk the river, share food, move and sing, share InterPlay expressive forms and see what emerges inspired by being earth bodies on the land. Join us on behalf of our world! Our theme this year is: Being River Brought to you by "The Cosmic School of What Comes Next" @ River's Bend Retreat Center!
Cost:

$200-$500. details at registration depending on lodging choices
Registration/Information:

Contact us at (707) 895-3990 or info@riversbendretreat.org

Venue
River's Bend Retreat Center
18450 Ray's Road
Philo, CA 95466
River's Bend Retreat Center is a beautiful, nurturing space for contemplation, ecological understanding and deep connection between land and people. It is located about 3 hours north of San Francisco near the town of Philo. It is nestled in the redwoods and is about 30 minutes from the Pacific Ocean.
Leaders
Christine Gautreaux, LMSW
As a Licensed Master Social Worker, Christine uses InterPlay in a variety of settings and workshops with her peers and clients. She enjoys taking InterPlay and performance into underserved communities. She has worked with women in Lee Arrendale State Prison and the pre-trial detention center in Atlanta, GA. Christine also uses InterPlay with her Life Coaching Clients and in her workshops with foster/adoptive families. Dedicated to the pursuit of play, joy, laughter and love, Christine enjoys InterPlay, yoga, blogging, DCP, triathlons, family & friends and tea. Her superpowers include connecting people, helping folks manifest their dreams and juggling a full delightful life.
Nika Quirk
Nika Quirk, M.B.A. (aka Quirky Auntie) coaches everyday leaders and teams to be vitally present, emotionally intelligent, whole-brained, and effective in action in life & work. Leading and living in times of change is tough work, and too often we try to do it alone. Everyone deserves great coaching & mentoring!

Nika has been practicing InterPlay for more than 15 years and is a Certified Leader of InterPlay. She also is a Certified FEBI Consultant through Focus Leadership (www.focusleadership.com). The Focus Energy Balance Indicator (FEBI) is an instrument developed by Ginny Whitelaw, Ph.D. that builds off the Coordination Pattern work of movement researcher, Betsy Wetzig, which has long been incorporated in InterPlay.

As a facilitator, coach, consultant and educator, Nika is known as an articulate and innovative communicator, a skilled facilitator of learning experiences, and a proven catalyst for insightful change and forward momentum for individuals and in organizational settings. She is a Certified Small Business Advisor with The One Page Business Plan Company?. In addition to receiving an MBA from the University of Phoenix and an undergraduate degree in Business Administration and Human Resource Management from Holy Names College in Oakland, CA, Nika is currently engaged in a PhD in the Transformative Studies Department at California Institute of Integral Studies. Her research project explores the emergence of collaboration in a leadership team using an improvisation-based performance development model she designed.