Resilience Practices for a Culture of Embodied Resistance and Lively Emergence
2nd Annual Earth Body Wisdom InterPlay Convergence
Laurie Adams
,
Christine Gautreaux, MSW
,
Nika Quirk
,
Soyinka Rahim
, and
Carolyn Renée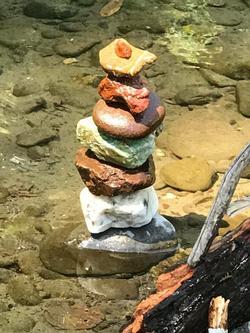 Philo, CA
July 19th - July 22nd This year we are looking to start on Thursday evening so we can have two full days Friday and Saturday and Sunday morning of play. This extended schedule will allow for a trip to ocean for ceremony.
Save the Date for the 2nd Annual Earth-Body Wisdom InterPlay Convergence Resilience Practices for a Culture of Embodied Resistance and Lively Emergence It's time again! The earth offers a dream and call that is moving through us. We invite you as earth-body wise beings to gather and catalyze the seeds in each and all of us. In the midst of resistance, we play with living into the beautiful world we know is possible. Weekend Retreat and Village Convening July 19th - 22nd River's Bend Retreat Center, Philo, CA Co-Diviners, Co-Inspirators, Elements at Play: Laurie Adams, Nika Quirk, Christine Gautreaux & Diana MorningStar Why? We need the group body to inspire, co-create and witness... and to: Activate hope Strengthen resilience Deepen relationship to each other and the more-than-human world Create shared stories of real and mythic times What? Sit, breathe, stand, root down, create ceremony, swim and walk the river, share food, move and sing, share InterPlay expressive forms and see what emerges inspired by being earth bodies on the land. Join us on behalf of our world! Our theme this year is: Being River Brought to you by "The Cosmic School of What Comes Next" @ River's Bend Retreat Center!
Cost:

$200-$500. details at registration depending on lodging choices
Registration/Information:

Contact us at (707) 895-3990 or info@riversbendretreat.org

Venue
River's Bend Retreat Center
18450 Ray's Road
Philo, CA 95466
River's Bend Retreat Center is a beautiful, nurturing space for contemplation, ecological understanding and deep connection between land and people. It is located about 3 hours north of San Francisco near the town of Philo. It is nestled in the redwoods and is about 30 minutes from the Pacific Ocean.