We hold our seeds to the moonlight and wonder aloud what may be ready to grow
InterPlay for Artists, Activists and Dabblers
A time to for stillness and deep play
Kelsey Blackwell
and
Annie-Rose London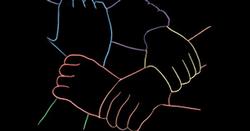 Oakland, CA
Mondays, 6:30 to 8:00 p.m.
I want a little sugar In my bowl I want a little sweetness Down in my soul I could stand some lovin' Oh so bad I feel so funny and I feel so sad
Nina Simone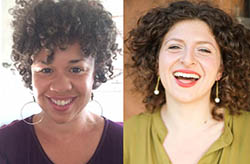 The world is in a troubled state. Many of us feel called to be of service and at the same time there may be equal forces that sometimes lead us to want to close up, retract and pull the sheets over our eyes.
Because the issues threatening the possibility of a peaceful society were created by many bodies over time, their undoing will require the attention and concerted efforts of many bodies over time.
We must be in community as we move forward.
In this class,
we taste the sweetness of being together in play and vision.
We use the birthright practices of movement, storytelling and song as tools to hold us and guide us towards resilience and sustainability on our paths. This is a time for sharing, witnessing and receiving.
We understand that the words "artist" and "activist" may sound intimidating or arise feelings of "not me."
Please know that we value the broad tapestry of the nature of this work. If you desire to be of service towards creating a more just and inclusive world and are curious how lightness and laughter may support this vision, please join us.
During and after class you will experience: • Practical tools for more ease • A deeper connection to your self and community • Space to process issues that arise on a physical level • Belief in the power of joy • A sense of possibility • A time for play, fun and reflection • Music that you can't not move to!
Accessibility info:
This workshop is at InterPlayce, the home of InterPlay. Yay! The space is wheelchair accessible, with all activities happening at ground floor.
To support the space, please don't use any fragrances or scented products.
Check our
Facebook Group
for our class schedule.
Cost:

$15 NOTAFLOF (No One Turned Away For Lack of Funds)
Registration/Information:

Call, (510/292-3483) or email, kelseyblackwell22@gmail.com

Venue
InterPlayce
2273 Telegraph Avenue (at 23rd St.)
Oakland, CA 94612
InterPlayce is the center of the InterPlay universe. The offices for Body Wisdom, Inc. are also located here. The building is at the corner of 23rd and Telegraph, one block north of West Grand. It is just a few blocks from the 19th Street Downtown Oakland BART station, and on several convenient bus lines. On-street parking is always available at night and metered during the day. It is also easily accessible by several of the major freeways.
Click here for a map.
Leaders
Kelsey Blackwell
Kelsey Blackwell is a writer, meditation instructor and embodiment coach. Her writing has appeared in Cooking Light, Southern Living, Delicious Living and The Arrow: A Journal of Wakeful Society. As a meditation guide and discussion leader, Kelsey offers experiential activities incorporating mindfulness and "bodyfulness" to experience our inherent human worthiness. On her blog, TheMarvelousCrumb.com, Kelsey writes transparently about race, identity, belonging, dating, and curly hair.
Annie-Rose London
Annie-Rose London lives amongst the fields of sustainable design, community arts, and social justice through education, coaching and leadership. She has called herself a dancer, a burlesque clown, a ritualist, an arts educator, a wilderness guide, a non-profit director, an activist, a healer - today she calls herself happy to meet you. Until a recent dive into sabbatical, Annie-Rose served as the executive director of Berrett-Koehler Foundation, an Oakland-based intergenerational leadership and community non-profit. Her main influences are through InterPlay, the Earth Activist Training, Yes! Jams, and generative somatics. She currently is a resident organizer at the East Bay Moishe House, a Jewish community home. She studied biology and community art at Brown University. She has lived and worked on several land projects, including Short Mountain Sanctuary, Wolf Creek Sanctuary, Eden Village Camp, Desde Mi Huerto, and O.U.R. Ecovillage.