International Day of InterPlay
Transforming our Worlds
Agnotti Cowie
,
Phil Porter
,
Soyinka Rahim
, and
Cynthia Winton-Henry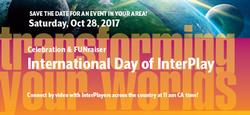 Online, ONLINE
October 28th online in all time zones!
InterPlay is a world-wide network of people committed to creativity, community, joy, justice, and peace.

Saturday, October 28th will be an opportunity to celebrate that we're all playing together to create new possibilities, changing our own lives, our communities and our worlds.

You can join from anywhere in the world! Click on the link during the time of the event and join the international celebration of InterPlay.

We'll gather all over the place and connect by video at 11 am California time.

Party, play, be inspired and support this movement!

* Find out soon if there is an event in your area (news to come).
* Organize your own gathering to play and then connect to the video.
* Come online yourself from anywhere (connecting details to come.)

Events happening in Oakland, Minneapolis, Chicago, Raleigh, Berlin, Toronto, and more to come!
Cost:

Free
Registration/Information:

agnotti@interplay.org

Venue
Online
Online, ONLINE
This will be an online event which could originate from anywhere in the world and would be open to anyone around the world.