What is, what isn't??
WING IT! : Real Fake News
Two evenings of fun rooted in truth and spiced with humor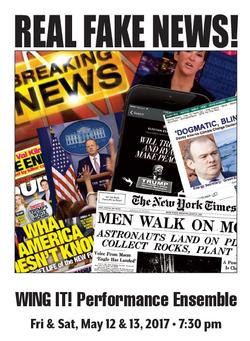 Oakland, CA
Fri & Sat, May 12 & 13, 2017 • 7:30 pm
The WING IT! gang of dancers, storytellers, music makers and truth tellers is at it again for two nights in Oakland.
#story, #dance, #song, #live music, #laughter, #satire, #ranting, #improvisation, #fun, #truth, #fiction, #imagination, #real
Cost:

$10 in advance/$15 at the door
Registration/Information:

Buy tickets online or call 510-465-2797 by credit card

Venue
InterPlayce
2273 Telegraph Avenue (at 23rd St.)
Oakland, CA 94612
InterPlayce is the center of the InterPlay universe. The offices for Body Wisdom, Inc. are also located here. The building is at the corner of 23rd and Telegraph, one block north of West Grand. It is just a few blocks from the 19th Street Downtown Oakland BART station, and on several convenient bus lines. On-street parking is always available at night and metered during the day. It is also easily accessible by several of the major freeways.
Click here for a map.
Leaders
Phil Porter
Phil is one of the founders of InterPlay. He is a teacher, performer, writer, and organizer. With Cynthia Winton-Henry he is the co-founder of WING IT! Performance Ensemble, and has written several books, some in collaboration with Cynthia, including Having It All: Body, Mind, Heart & Spirit Together Again at Last and The Slightly Mad Rantings of a Body Intellectual Part One. Phil is particularly interested in the use of InterPlay in organizational life, and believes that InterPlay can be a powerful tool to create communities of diversity and peace.