Teaching Practicum in Atlanta
Sheila K Collins
and
Jennifer Denning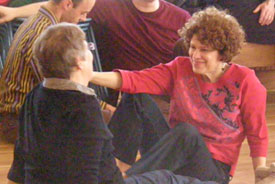 Atlanta, GA
Thursday, June 22nd • 7-10 pm, Friday, June 23rd • 9 am-9:00 pm with lunch and dinner breaks, Saturday, June 24th • 9 am-3 pm with lunch break
The InterPlay Teaching Practicum is a core component of the Interplay Leader Training Program. It is for InterPlay leaders-in-training who have enrolled in the Leader Training Program and attended a Secrets of Leading InterPlay. Previously certified InterPlay leaders may also attend. The Practicum is a multi-day workshop that includes practice teaching by participants with self-evaluation and feedback from leaders and other participants, information on best practices in designing and leading InterPlay events, and teaching resources such as sample class outlines. Before attending the Practicum, participants must complete 8 of the Self Study Core Elements and record their completion on the InterPlay website Leaders Circle form. For questions about this requirement, contact the InterPlay office, info@interplay.org or 510-465-2797. Local homestays available! Contact Jennifer at atlantainterplay@gmail.com Note: A $350 Leader Training Program tuition payment is due at the time you register for this Teaching Practicum. This amount is credited to your Leader Training Program tuition. Also a payment plan for the balance of the Leader Training Program tuition must be in place by the time you attend the Practicum. Automatic monthly payments can be set up by credit card through the Body Wisdom office or you can arrange that automatic checks be sent by your bank. The Practicum is also open to previously certified leaders who pay a reduced amount of $300.
Cost:

$350 plus shared cost of space rental. Previously certified InterPlay leaders, $300 plus shared cost of space rental.
Registration/Information:

510/465-2797 or info@interplay.org

Venue
St. Luke's Episcopal Church
435 Peachtree St Ne
Atlanta, GA 30308
Free Parking
Leaders
Sheila K Collins
Sheila K. Collins
is the director of InterPlay Pittsburgh and the
Wing & A Prayer Pittsburgh Players
, an InterPlay-based performance troupe that assists human service agencies in accomplishing their noble purposes. A former professional dancer, Sheila describes herself as a "dancing social worker," since she has taught social work and co-founded and directed a behavioral health care clinic in Texas.
Sheila is the author of Stillpoint: The Dance of Selfcaring, Selfhealing and Warrior Mother: Fierce Love, Unbearable Loss and the Rituals That Heal. She's been known to travel the country enlisting InterPlayers to help her Perform The Book, demonstrating how InterPlay tools help us get through life's ordinary and extraordinary, "tough stuff."
Jennifer Denning
Jennifer has been working with creative expression as a means of community building, self-empowerment and joy for many years! She landed in Atlanta to work as an actor and found herself invigorated by the ensemble creating work of The Academy Theatre. She worked as an actor, director and facilitator with the Human Services program of The Academy Theatre for ten years. Currently she teaches "with-hope" girls through Synchronicity Theatre's "Playmaking For Girls" program. Jennifer is an ordained "New Church" minister. Her ordination path included an in-depth exploration into creating a church space that allowed each person present to find her own connection to the divine. The inherent wisdom of "where two or more are gathered," has long been a guiding principle in her teaching. The simple connections InterPlay creates nourish, sustain and inspire her. As well as leading playgroups in the Atlanta metro area, Jennifer leads InterPlay with children and teens in her work as a teaching artist and with women in prison. She is the director of Atlanta InterPlay's performance group, Soulprint Players. Jennifer is passionate about making the transformative power of the arts accessible to all!