Immerse yourself in your own bodywisdom!
InterPlay Life Practice Program in the Twin Cities 2019
Stay tuned for the start date!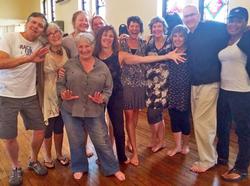 Minneapolis, MN
Fridays 6:30 pm to Sundays 4 pm • dates TBD in 2019
Unlock the wisdom of your body!
Have more fun!
Decrease stress and increase ease.
Make wiser, more grounded decisions.
Thrive by getting body, mind, heart and spirit to all work together.
Find easy ways to change what you want to change in your life: relationships, work, community, home, spirit, body image.
Discover your hidden resources.
The InterPlay Life Practice Program is an active, creative way to change your life and change your world. Immerse yourself in the system of InterPlay—ideas and practices that can move you from where you are to where you would like to be.
You will be meeting regularly over a period of time with a group of fellow InterPlayers. You may use this supportive, affirming community to help you shape your life in ways that are best for you. You will get individual attention from the Program leader who will help you identify your personal desires and intentions.
Although some previous experience with InterPlay is encouraged, there are no prerequisites for taking part in the InterPlay Life Practice Program.
Elements of the Life Practice Program
The Secrets of InterPlay, a multiple-day retreat where you will be immersed in the InterPlay philosophy and practice.
A series of four monthly weekends with your Life Practice Program group for play, presentation, discernment, and interaction, where you will have a chance to explore new possibilities in a supportive community.
Three focus sessions during which you receive personal support from the program leaders to get more of what you want.
Reading and writing assignments which will help you apply InterPlay insights to your own life.
A Self-Study of several of the elements of the InterPlay system that will give you a more in-depth understanding of how InterPlay works.
Anyone who has previously completed the Life Practice Program may repeat it at a reduced tuition. Based on InterPlay's commitments to build transformational communities of practice, people of color, millennials, full-time artist-activists, and undergraduate and graduate/professional students are eligible for the $1000 repeaters rate.
Continuing Education Credit
50 CE credits for various healthcare and allied healthcare professions are available for those practicing throughout the U.S. and for educators only practicing in Illinois.
CE pre-registration is required at least 2 weeks before the start of your event.
Notify the Body Wisdom office (510) 465-2797 at time of registration that you are requesting CEUs. A fee of $25 per program will be due at the time you register. CEUs are offered through
Continuing Education Institute of Illinois.
Cost:

$2,250 (Repeaters: $1,000), $400 for Secrets Retreat ($350 repeaters)
Registration/Information:

Contact the Body Wisdom office at 510-465-2797 or info @interplay.org. For local information: CathyAnn Beaty at 952-212-1161 or souplayca@gmail.com

Venue
The Dance Studio
#16 East 27th St.
Minneapolis, MN 55408
Leaders
CathyAnn Beaty
CathyAnn Beaty, MDiv, is a master InterPlay leader, dancer and visual artist. She has been working with ongoing groups of therapists, clergy and other helping professionals for the past 12 years through her business SoulPlay, www.soulplay.org and has developed new approaches to healing based both on her professional and personal experience. CathyAnn is an ordained minister and began her InterPlay journey in 1989 when serving as pastor at Spirit of the Lakes UCC. She got her Masters of Divinity at United Theological Seminary of the Twin Cities in 1984 and did her Clinical Pastoral Education at Hennipen County Medical Center in Minneapolis. She served three parishes over 15 years. CathyAnn leads the InterPlay Life Practice Program, The InterPlay Way, performance workshops, couples classes, mentors leaders in training and directs SoulPlay Performance Ensemble. She has taught InterPlay in India, Australia and around the United States.