Connect with the current Life Practice Program participants
Friday Night Community InterPlay
Friends and Family Play!
Sharie Bowman
,
Joy Fry
, and
Betsey Beckman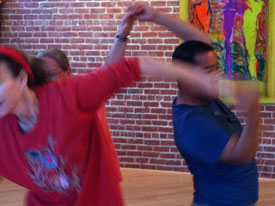 Seattle, WA
Fridays, January 19th, February 16th, April 6th, and May 11th 7:30-9:00 pm
Please join the Seattle InterPlay Life Practice Program for our monthly "friends and family" session one Friday a month from 7:30-9:00 pm at Queen Anne Christian Church. All are invited to come learn and explore some InterPlay forms and have some fun!
Cost:

$20 for individuals or $25 per family (or pay as you can)
Registration/Information:

Sharie Bowman at infoseattle@interplay.org (or Drop In)

Venue
Queen Anne Christian Church
1316 3rd Ave W & W Lee St
Seattle, WA 98119
Neighborhood parking. Along 3rd Ave W there is a single door entrance with a stained glass window beside it. Come in that door and go up the stairs and through the double doors to the Fellowship Hall. Wear layers!
Leaders
Sharie Bowman
Sharie Bowman, MA is a Mental Health Counselor and Regional InterPlay Leader. She has been leading InterPlay since 2004 and has co-led six Life Practice Programs. She is particularly intrigued with the potential InterPlay has to support people to create healthier lives by following the wisdom of their bodies and taking the lead in their own lives. In her private practice she regularly weaves InterPlay's life-enhancing forms and philosophies to help individuals and families thrive. For over 20 years, she has been exploring the wisdom of the body through a variety of modalities including InterPlay, Authentic Movement, Core-Energetics, and Biodynamic Psychotherapy.
Joy Fry
Alive to the interconnectivity of all beings, I am humbled to play my part in the name of LOVE. YAY for INTERPLAY!! An InterPlayer since 2006, Joy Fry has been facilitating and teaching since 2011. Her practice is informed by her enjoyment of the visual arts and by her decades of work with children, both of which convinced her of the centrality of play in self-expression and self-knowledge. She particularly appreciates InterPlay's capacity to promote individual growth and community-building at the same time, deepening participants' understandings of themselves while connecting them to one another in truly meaningful ways. She looks forward to sharing new perspectives, fresh possibilities and the sheer sensory delight that InterPlay offers.
Betsey Beckman
Betsey Beckman, MM travels internationally and brings the tools of InterPlay wherever she goes - as dancer, storyteller, and spiritual director, as well as retreat, workshop and pilgrimage leader. With her extensive background in performance, movement therapy, ministry and InterPlay, she is regularly featured as artist/presenter at national conventions as well as local churches. Betsey's storydance series of DVDs feature riveting performances and include participatory InterPlay workshops to break open the scriptural stories with embodiment. Betsey's co-authored book, Awakening the Creative Spirit: Bringing the Arts to Spiritual Direction, offers numerous InterPlay exercises for integrating into soul-care ministries. She has been leading SpiritPlay classes in the Seattle community for the past 17 years, and has been a member of the local InterPlay Sounding Board for the past 12 years. Betsey offers the gift of playful improvisation whenever possible!