Change your life -- Change Your World
InterPlay Life Practice Program in DC 2017
with Kate Amoss leading and Kaira Jewel Lingo assisting
Kate Amoss
and
Kaira Jewel Lingo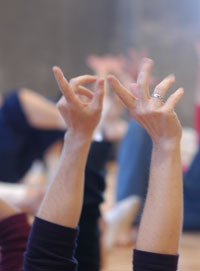 Washington, DC
In 2017: Feb 25 9:30am-5pm; Mar 24-26; Apr 28-30; May 19-21 • 5th Weekend TBA: Fri 7–9 pm, Sat 9:30 am – 6:30 pm, Sun 10:00 am – 3 pm
Assisted by Laura McManamy
Create more ease, community, grace, energy, and joy in all parts of your life. Uncover the deep resources of your "body wisdom." Explore new life possibilities in a community that says "yes!" to you.
The Life Practice Program will lead you to deep places in your life—the places that feed, nourish, and energize you. This practice creates powerful connections with others in a community that is open and accepting.
The Washington DC InterPlay® Life Practice Program includes four weekend sessions from Friday evening to Sunday afternoon once a month from February through May. It begins with a Secrets of InterPlay retreat.
In each of the four monthly sessions we learn about InterPlay Tools and deepen our practice of the InterPlay Forms. Additionally, each participant will have three opportunities to be mentored individually. The learning and playing are very experiential. In between the meetings, you will be reading and writing reflections to deepen and strengthen your experience.
Kaira Jewel Lingo and Laura McManamy will be assisting Kate Amoss in leading this program.
CEs
Nurses: As an American Psychological Association approved provider, Commonwealth Educational Seminars' (CES) programs are accepted by the American Nurses Credentialing Center (ANCC). Every state Board of Nursing accepts ANCC approved programs except California and Iowa, however CES is also an approved Continuing Education provider by the California Board of Registered Nursing, (Provider Number CEP15567) which is also accepted by the Iowa Board of Nursing. Nurses completing this program receive 44 CE hours of credit.
Please check the Commonwealth website for specific information regarding disciplines covered.
Cost:

$2150 (which includes tuition for Secrets of InterPlay) plus a $100 space rental fee. Repeaters: $700 plus $100 space rental fee.
Registration/Information:

Body Wisdom 510/465-2797 or locally Kate Amoss 301/219-1223

Leaders

Kate Amoss

Kate Amoss, MA, LCPC, is an InterPlay Master Teacher and Professional Counselor in private practice. She has an unshakable faith in the power of the imagination to transform, delight, and liberate. She uses applied InterPlay with clients in groups, workshops, and individually. Since 2005, she has been co-leading the InterPlay Life Practice Program in Washington DC. Currently, she is the president of InterPlay DC and is serving on the national board of Body Wisdom. "I am so fortunate to be part of this global movement that is changing the world dance by dance, story by story, and song by song."

Kaira Jewel Lingo

Kaira Jewel Lingo teaches meditation and mindfulness internationally, with a focus on activists, people of color, artists, educators, families, and youth. She began practicing mindfulness in 1997. An ordained nun of 15 years in Thich Nhat Hanh's Order of Interbeing, she is now based in Washington, D.C., leading retreats in the U.S. and internationally, offering mindfulness programs for educators and youth in schools, as well as individual spiritual mentoring. In addition to her roots in the Zen tradition, she practices and teaches in the Insight tradition and is an affiliate teacher with the Insight Meditation Community of Washington. She explores the interweaving of art, play, ecology and spiritual practice and is a certified yoga teacher and InterPlay leader. She has loved training in dance and other expressive arts since childhood. She edited Thich Nhat Hanh's,

Planting Seeds: Practicing Mindfulness with Children

and has articles and chapters published in numerous magazines and books, including

Real World Mindfulness for Beginners

. Visit

kairajewel.com

to learn more.