Connect from anywhere in the world!
InterPlay Body Wisdom Tools Online - Spring 2019
Learn the core elements of the InterPlay system
Sharie Bowman
and
Nancy Pfaltzgraf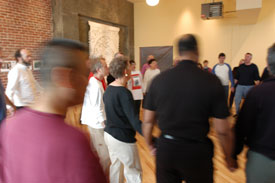 Online, ONLINE
Wednesdays April 3, May 8, June 12, July 17 from 11:30am-2:00pm PT
Join InterPlay Leaders Sharie Bowman and Nancy Pfaltzgraf to explore the eight Body Wisdom Tools of the InterPlay System (Easy Focus, Body Data/Body Knowledge/Body Wisdom, Inner Authority, Physicality of Grace, Exformation, Body Wisdom Practices, Incrementality and Affirmation and discover their potential to help you unlock the wisdom of your body, lead a richer, fuller life and foster ease, creativity and community!
Experience the power of connection through time and space as you play from your own location in an on-line community and learn some of the basic InterPlay forms that lead to ease of movement, voice, story, stillness and contact.
The InterPlay Body Wisdom Tools Online Course is an element of the Long Distance Life Practice Program designed for people who don't have easy access to a local Life Practice Program. You don't have to enroll in the whole Life Practice program in order to take part in the online group. If you do enroll, the cost of the online group will be applied to the tuition for the whole program. You can also take it as a stand alone experience to help you dive deeper into these powerful tools. This series can also serve as a refresher if you have previously participated in the Life Practice Program or a Secrets of InterPlay Event and want to play with them in a fresh new way.
Cost:

$400
Registration/Information:

510/465-2797 or info@interplay.org to register. For info about the class contact Nancy at revdancer2@gmail.com or Sharie at Sharie.bowman@gmail.com

Venue
Online
Online, ONLINE
This will be an online event which could originate from anywhere in the world and would be open to anyone around the world.
Leaders
Sharie Bowman
Sharie Bowman, MA is a Mental Health Counselor and Regional InterPlay Leader. She has been leading InterPlay since 2004 and has co-led six Life Practice Programs. She is particularly intrigued with the potential InterPlay has to support people to create healthier lives by following the wisdom of their bodies and taking the lead in their own lives. In her private practice she regularly weaves InterPlay's life-enhancing forms and philosophies to help individuals and families thrive. For over 20 years, she has been exploring the wisdom of the body through a variety of modalities including InterPlay, Authentic Movement, Core-Energetics, and Biodynamic Psychotherapy.
Nancy Pfaltzgraf
Nancy Pfaltzgraf has been joyfully leading InterPlay classes and retreats in local and national settings since 2006. Having discovered InterPlay and the Life Practice Program helped her discover ease and joy in her professional life as the pastor of progressive Christian congregations. Her experience as an RN and a Hospice Chaplain has also given her a unique perspective on the way InterPlay can relieve stress and empower people in the helping professions to live and work with more grace and ease. Since leaving pastoral ministry it has been her delight to continue to offer her gifts through Body Wisdom - Deep Play groups for helping professionals, Retreats and Untensives, InterPlay Life Practice programs, Online Body Wisdom Tools classes, online classes and untentsives focusing on the Move to Greatness wisdom and an Online Interfaith Dance Chapel. Nancy holds coaching certification using the FEBI® [Focused Energy Balance Inventory] and Appreciative Inquiry and delights in both one-to-one and group Soul Coaching. Although her home base is in the Chicagoland area, her mastery of online communication forms allows her to serve people wherever they are. All this allows her to fulfill her life mission to "lead with love, follow with trust and dance with joy with those ready to step into the life-giving rhythms of grace".,