InterPlay Leader's Training Teaching Practicum January, 2018
Sharie Bowman
and
Stephen Condit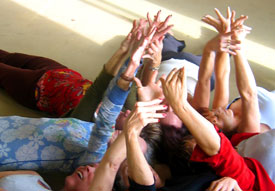 Seattle, WA
Friday, Jan 5th 9:30 am to 6:00 pm, Saturday, Jan 6th 9:30 am to 6:00 pm, Sunday, Jan 7th 1:30 to 4:30 pm
The InterPlay Teaching Practicum is a core component of the Interplay Leader Training Program (LTP). You must be enrolled in the Leader Training Program or be a previously certified InterPlay leader in order to attend a Teaching Practicum. The practicum is a multi-day workshop that includes practice teaching with self-evaluation and feedback from leaders and other participants, information on best practices in designing and leading InterPlay events, and teaching resources such as sample class outlines.
Schedule: Friday 9:30 to 6:00 with lunch break Saturday • 9:30 am-6:00 pm with lunch breaks Sunday • 1:30 to 5:00 pm
The Teaching Practicum tuition is included in the tuition for the Leader Training Program. An additional $40 per person will be charged to cover space rental cost. This will be a non-residential event. To register, call the InterPlay office at 510-465-2797 or email info@interplay.org. The Practicum is also open to previously certified InterPlay leaders at a reduced tuition of $300 plus $40 for space rental.
Cost:

included in the tuition for the InterPlay Leader's training program with an addition $40 rental fee
Registration/Information:

info@interplay.org or call 510/465-2797

Venue
Queen Anne Christian Church
1316 3rd Ave W & W Lee St
Seattle, WA 98119
Neighborhood parking. Along 3rd Ave W there is a single door entrance with a stained glass window beside it. Come in that door and go up the stairs and through the double doors to the Fellowship Hall. Wear layers!
Leaders
Sharie Bowman
Sharie Bowman, MA is a Mental Health Counselor and Regional InterPlay Leader. She has been leading InterPlay since 2004 and has co-led six Life Practice Programs. She is particularly intrigued with the potential InterPlay has to support people to create healthier lives by following the wisdom of their bodies and taking the lead in their own lives. In her private practice she regularly weaves InterPlay's life-enhancing forms and philosophies to help individuals and families thrive. For over 20 years, she has been exploring the wisdom of the body through a variety of modalities including InterPlay, Authentic Movement, Core-Energetics, and Biodynamic Psychotherapy.
Stephen Condit
After decades in higher education and technology, Steve rediscovered life-below-the-neck through movement and the embodied voice practices of Gabrielle Roth's 5Rhythms® and Chloe Goodchild's The Naked Voice. His explorations have also included taking Aikido with his son and studying embodied leadership with Richard Strozzi-Heckler. But all this was just a prelude to InterPlay. Steve says "for me, discovering InterPlay was like coming home. InterPlay combines my major life interests, movement, voice, storytelling, and stillness and has opened new, easier paths for my personal and spiritual growth, all in the context of play. It has provided balance to my intellectual and serious approach to life and restored my joy and creativity." Steve has co-facilitated Secrets of InterPlay and the Life Practice so that others may rediscover the joy of play and learn that transformation does not have to involve struggle.