Would you like to help share this valuable bodywisdom in your communities?
Secrets of Leading InterPlay Chicago 2018
provides you with an overview of the InterPlay system and how it works
Phil Porter
,
Agnotti Cowie
, and
Jane Siarny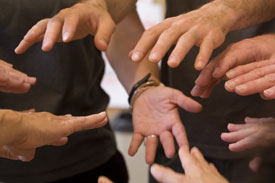 Chicago, IL
Friday, October 19th 6:30 pm -
Sunday, Oct 21 3:30pm
The Secrets of Leading InterPlay is a multi-day workshop and a core component of the
InterPlay Leader Training Program
that leads to becoming a certified InterPlay leader. It is open to those who have completed or are in the process of completing the InterPlay Life Practice Program and have enrolled in the InterPlay Leader Training Program.
The Secrets of Leading provides an overview of the InterPlay® system and covers the underlying structure and philosophy of InterPlay. How are the forms taught? How do they work together? What is the ultimate outcome or effect of using InterPlay forms? How do you decide which forms to use at what times? How do you deal with people you find challenging? The workshop includes presentation, interaction, and play.
Schedule
Friday, October 19 6:30-9 pm Saturday, October 20 9:30 am -noon, 1:30-4:30 pm, 6:30-9 pm Sunday, October 21 9:30 am - noon, 1:30-3:30 pm
This is a non-residential event.
A limited number of homestays may be available for out-of-town participants as well as hotel/motel options. For housing options, contact Jane Siarny at interplaychicago@sbcglobal.net
To enroll in the InterPlay Leader Training Program or if already enrolled, to register for this Secrets of Leading, call 510/465-2797 or email info@interplay.org.
Tuition:
Leader Training Program tuition is $1,600 and requires a $100 tuition deposit to enroll. Enrollment needs to be completed before attending a Secrets of Leading. Based on Body Wisdom. Inc.'s commitment to build transformational InterPlay communities of practice, people of color, millennials, full-time artists/activists, and undergraduate and graduate/professional students are eligible for a reduced tuition of $1,000.
The $400 Secrets of Leading cost counts toward the Program tuition.
Repeating the Program
Previously certified leaders (regardless of the version of the program you went through) receive a special reduced tuition rate. The current program has new information and resources that will enhance your teaching. If you have not taught much InterPlay or have not taught recently, you may appreciate this way of bringing your skills up to date.
Tuition for previously certified leaders is $1000 and includes tuition for the Secrets of Leading InterPlay, the Teaching Practicum, the Mentored Teaching experience and a copy of the InterPlay Core Elements Self-Study. Tuition for either the Secrets of Leading InterPlay or the Teaching Practicum is $350 per event. Cost of doing the Mentored Teaching experience is $350.
Automatic monthly payments can be set up by credit card through the Body Wisdom office or you can arrange that automatic checks be sent by your bank.
Continuing Education Credits
15 CE credits for various healthcare and allied healthcare professions are available for those practicing throughout the U.S. CE preregistration deadline is no later than 2 weeks before the start of your event. Notify Body Wisdom staff at time of registration that you are requesting CEUs. Indicate the profession (E.g. LCSW) and the state you have your license in (E.g. MI). A CE fee of $15 will be due once your profession and state are approved. CEUs are offered through Continuing Education Institute of Illinois.
Cost:

$400, included in Leader Training fee OR $350 for certified leaders
Registration/Information:

info@interplay.org or call 510/465-2797

Venue
Ravenswood Presbyterian Church
4300 N. Hermitage Ave
Chicago, IL 60613-1106
Leaders
Phil Porter
Phil is one of the founders of InterPlay. He is a teacher, performer, writer, and organizer. With Cynthia Winton-Henry he is the co-founder of WING IT! Performance Ensemble, and has written several books, some in collaboration with Cynthia, including Having It All: Body, Mind, Heart & Spirit Together Again at Last and The Slightly Mad Rantings of a Body Intellectual Part One. Phil is particularly interested in the use of InterPlay in organizational life, and believes that InterPlay can be a powerful tool to create communities of diversity and peace.
Agnotti Cowie
Agnotti Cowie attended the first ever "Art & Social Change: InterPlay for Millennial Leaders" in 2010. Since, she joined InterPlay's national board as well as becoming a certified InterPlay leader. For the past two years, she returned to Oakland as a facilitator of the Art and Social Change training. Agnotti facilitates workshops worldwide employing a variety of pedagogical techniques such as InterPlay, Theatre of the Oppressed, and Devising. Currently she is based in Chicago where she does workshops in schools, organizations and with social movements. Recently, she has taken her work around the globe teaching workshops in Vietnam, India, and Germany.
Jane Siarny
Jane Siarny, MFA, Master InterPlay® Leader, Certified Yoga Teacher CYT-200 is dedicated to uplifting the human spirit through creativity, community building and body-wise practices. Her training and inspiration draws from classical ballet & modern dance, improvisation, singing, poetry, yoga and InterPlay. Currently, Jane is the InterPlay Life Practice Program Coordinator and led her first Life Practice group in 1999. She also is a trainer in the InterPlay Leader Training Program. She is happy to have discovered InterPlay's therapeutic, community building approach to celebrating the wisdom of the body. From 1994-2004 she was co-director of the InterPlay based OUTABOUNDS Performance Company, performing and teaching throughout the U.S. Jane's story can be found in MOVE: What the Body Wants by InterPlay co-creators Cynthia Winton-Henry with Phil Porter.