The "GO-TO" class to learn how to improvise!
How to Improvise Your Life
InterPlay's co-founder makes improv easy as pie!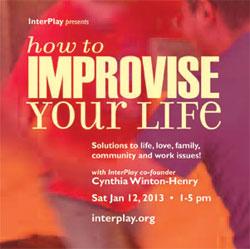 Oakland, CA
January 12, 2013 • 1-5 pm
In a single session get tools to:
• increase your play factor and "bodysmarts" in work and life
• give a better interview or first date
• improve relationships with lovers, family, coworkers
• feel present and go with the flow
• play with what shows up, even life's icky stuff

We guarantee that you'll find some new energy, new connections, and new ideas or YOU GET YOUR MONEY BACK!

What will happen?

Secret #1 WE BREAK IT DOWN FOR YOU
Play with bite-sized activities in five areas of everyday life: moving, voice, words, stillness, and connecting

Secret #2 WE KEEP IT EASY-GOING
We enjoy affirmation and amusement and like to spread it around.

Secret #3 WE GIVE YOU PRACTICES and IDEAS from the GET GO!
Get a quick overview of some of InterPlay's 26 Core Elements and learn ways to use the most potent ones right away.

Secret #4 WE OFFER CLASSES and EVENTS WORLDWIDE FOR FUN & SUPPORT
See InterPlay's website to find classes and events open to everyone. Decide if you want to dive deep, take a dip, or learn how to apply InterPlay in your work or life.


Cost:

$39 in advance/$45 at the door
Registration/Information:

info@interplay.org or 510-465-2797

Venue
InterPlayce
2273 Telegraph Avenue (at 23rd St.)
Oakland, CA 94612
InterPlayce is the center of the InterPlay universe. The offices for Body Wisdom, Inc. are also located here. The building is at the corner of 23rd and Telegraph, one block north of West Grand. It is just a few blocks from the 19th Street Downtown Oakland BART station, and on several convenient bus lines. On-street parking is always available at night and metered during the day. It is also easily accessible by several of the major freeways.
Click here for a map.
Leaders
Cynthia Winton-Henry
Cynthia is one of the founders of InterPlay. With Phil Porter she provides leadership around the world to those interested in integrating body wisdom in their life and community practices. Her books include What the Body Wants, Dance: A Sacred Art: Discovering the Joy of Movement as Spiritual Practice, and Chasing the Dance of Life: A Faith Journey, Apocryphile Press and Having It All: Body, Mind, Heart & Spirit Together Again at Last. She administers the Focused Energy Balance Indicator to people interested in their four primary patterns of movement. Visit her blog, Mystic Tech to learn about her soul coaching and other resources.