Create, Play and Rest! CPR for Your Soul!
An InterPlay Retreat with CathyAnn Beaty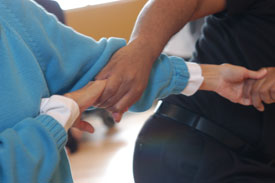 Milwaukee, WI
October 12 and 13, 2012: Friday 6:00 - 9:00 p.m.; Saturday 10:00 a.m. - 4:00 p.m.
When we Create, Play and Rest in community we are active participants in what Buddha called the great function: life being created in each moment. Creating: making it up on the spot. Playing: for no reason. Resting: because it is good for you. These three practices awaken us to our place in the great function. And it is fun!
Cost:

$50 church members; $75 non-members
Registration/Information:

Elizabeth Miller: 414/273-5257; elizabeth@uumilwaukee.org

Venue
First Unitarian Society of Milwaukee
1342 N. Astor St.
Milwaukee, WI 53202
The church is on the corner of Astor and Ogden on the "East Side" of downtown Milwaukee. Street parking is available. Come to the glass doors on Astor Street and ring the door bell to get in. We meet in Max Otto Hall on the upper level, accessible by stairs or elevator.
Leaders
CathyAnn Beaty
CathyAnn Beaty, MDiv, is a master InterPlay leader, dancer and visual artist. She has been working with ongoing groups of therapists, clergy and other helping professionals for the past 12 years through her business SoulPlay, www.soulplay.org and has developed new approaches to healing based both on her professional and personal experience. CathyAnn is an ordained minister and began her InterPlay journey in 1989 when serving as pastor at Spirit of the Lakes UCC. She got her Masters of Divinity at United Theological Seminary of the Twin Cities in 1984 and did her Clinical Pastoral Education at Hennipen County Medical Center in Minneapolis. She served three parishes over 15 years. CathyAnn leads the InterPlay Life Practice Program, The InterPlay Way, performance workshops, couples classes, mentors leaders in training and directs SoulPlay Performance Ensemble. She has taught InterPlay in India, Austrailia and around the United States.