interplay cofounder vaults into DC to redeem the political system!!
Playing Around with Politics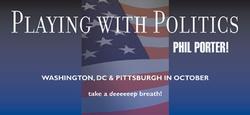 Washington, DC
Saturday (9:30 am – 4:00 pm) & Sunday (1:15 – 4:30 pm), October 13 & 14, 2012
Hosted by Kate & Billy Amoss
In this political season we can be sure that many of the issues that are important to us will not be addressed. Can we play with our political information? Make art and performance out of it? Express our hope or our disappointment, our consternation or our confidence?

Join InterPlay co-founder Phil Porter for a weekend of playing around with politics. Bring your knowing and not-knowing about the issues that move you. We will figure out ways both individually and together to rant and rave, to discuss and debate, to sing and dance and tell our stories about life in the giant and maddening community we call the United States. Laughter guaranteed!
You don't need to be a political expert or performer to take part! Just be willing to play!
The Saturday sessions will take place at Seekers Church (see info below.) The Sunday session will take place at First Congregational United Church of Christ at 945 G Street in Washington, DC.
Cost:

$149 or $129 for those already registered for InPlay
Registration/Information:

Call the InterPlay office at 510/465-2797 to register

Leaders
Phil Porter
Phil is one of the founders of InterPlay. He is a teacher, performer, writer, and organizer. With Cynthia Winton-Henry he is the co-founder of WING IT! Performance Ensemble, and has written several books, some in collaboration with Cynthia, including Having It All: Body, Mind, Heart & Spirit Together Again at Last and The Slightly Mad Rantings of a Body Intellectual Part One. Phil is particularly interested in the use of InterPlay in organizational life, and believes that InterPlay can be a powerful tool to create communities of diversity and peace.