FREE BRUNCH AND CELEBRATION
"Giving Wings" Free Brunch and FUNdraiser
Come celebrate all that InterPlay is bringing to the world!
Phil Porter
and
Cynthia Winton-Henry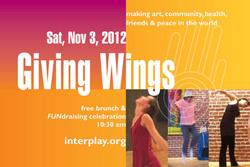 Berkeley, CA
Saturday, November 3, 2012 • 10:30 am–12:00 noon
Come help give wings to InterPlay!
Become part of the vision for the coming year!
InterPlay co-founders Cynthia Winton-Henry & Phil Porter host the Giving Wings FUNdraising Celebration.
InterPlay connects people with their own power on every continent. Folks of all sizes, shapes, colors, and origins—from the center to the margins—can claim their stories. 

Come for sights, sounds, stories, celebration, laughter and FREE FOOD! We will honor David McCauley for his many contributions to InterPlay and the wider community. Susanne Mulcahy will sing!
or scan the code on your smart phone...
Cost:

FREE!
Registration/Information:

Call the InterPlay office at 510/465-2797 to reserve your spot, use the online link above or scan the QR code!

Venue
First Congregational Church of Berkeley
2345 Channing Way
Berkeley, CA 94704
First Congregational Church of Berkeley is on the south side the UC Berkeley campus just a block west of Telegraph Avenue. It faces Dana Street between Channing Way and Durant Avenue. It is about 6 blocks from the downtown Berkeley BART Station and right near several bus lines.
Leaders
Phil Porter
Phil is one of the founders of InterPlay. He is a teacher, performer, writer, and organizer. With Cynthia Winton-Henry he is the co-founder of WING IT! Performance Ensemble, and has written several books, some in collaboration with Cynthia, including Having It All: Body, Mind, Heart & Spirit Together Again at Last and The Slightly Mad Rantings of a Body Intellectual Part One. Phil is particularly interested in the use of InterPlay in organizational life, and believes that InterPlay can be a powerful tool to create communities of diversity and peace.
Cynthia Winton-Henry
Cynthia is one of the founders of InterPlay. With Phil Porter she provides leadership around the world to those interested in integrating body wisdom in their life and community practices. Her books include What the Body Wants, Dance: A Sacred Art: Discovering the Joy of Movement as Spiritual Practice, and Chasing the Dance of Life: A Faith Journey, Apocryphile Press and Having It All: Body, Mind, Heart & Spirit Together Again at Last. She administers the Focused Energy Balance Indicator to people interested in their four primary patterns of movement. Visit her blog, Mystic Tech to learn about her soul coaching and other resources.