Healing the Past: Celebrating Our Ancestors!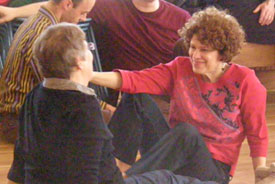 Seattle, WA
Sunday, Oct 28th 2-5 pm
Join Masankho for a time of remembering, celebrating and honoring those who have gone before with a wonderful combination of InterPlay, Storytelling, dance and African Ritual. We are just beginning African American History month and so it is appropriate for us to have this time of reflection. This will be a time to share songs, stories, dances and instrumental music. Our time together and the combination of Interplay and African Ancestor Ritual will be guided by spirit but below are some of things that will happen:
Chanting and Drumming Dance of the Four Directions Following the lead of our ancestors and each other
Solo and side by side dance of the Ancestors Hand to hand dance for peace and connection Dancing on behalf of...... our selves and our ancestors Sharing Stories and songs from our heritage (or making them up) and many many more InterPlay forms......
Things to bring for the Alter: Pictures and mementos of loved ones who have passed. Artifacts that are a representation of your cultural heritage etc
If you play an acoustic instrument and can improvise you are welcome to bring it.
Cost:

$30
Registration/Information:

Sharie Bowman 253/740-8209 or email infoseattle@interplay.org

Venue
University Congregational United Church of Christ
4515 16th Ave. N.E.
Seattle, WA 98105-4201
Leaders
Masankho Banda
Masankho is a multi - disciplinary Performing Artist, Certified InterPlay Leader, Educator and PeaceBuilder. He brings many unique perspectives to his work around the world. He learned the fine arts of storytelling and dance from his Malawian culture spending many long days and nights listening to stories and dancing to music that captivated his mind, shaped his being, nourished his soul and strengthened his spirit. Using performing arts Masankho motivates and inspires people of all ages to work together to bring about peace, social justice and cultural understanding. In 1997, he started UCanDanc? African Healing Arts to bring his passion for dance and storytelling to communities around the world. Masankho has been a Certified InterPlay Leader since 1999.