Called to Co-create
Building Bridges Peace by Peace
Betsey Beckman
and
Prashant Olalekar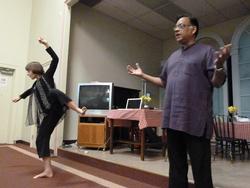 Seattle, WA
Friday, August 17th 7-9 pm and Saturday, August 18th 9:30 am to 4 pm (lunch on your own)
Since we are created in God's image and likeness we are called to be co-creators of a new heaven and a new earth. We will explore our connectivity and creativity through simple spiritual practices. InterPlay forms of movement and storytelling, sound and stillness as well as eastern meditative techniques will lead us deeper into ourselves as interconnected with others, the universe and God. Step by step we will discover our call to build bridges across all barriers. Please join us!
Cost:

Suggested Donation: $150 or pay as you can. Proceeds benefit InterPlay India
Registration/Information:

Sharie Bowman 253/740-8209 or email infoseattle@interplay.org

Venue
Queen Anne Christian Church
1316 3rd Ave W & W Lee St
Seattle, WA 98119
Neighborhood parking. Along 3rd Ave W there is a single door entrance with a stained glass window beside it. Come in that door and go up the stairs and through the double doors to the Fellowship Hall. Wear layers!
Leaders
Betsey Beckman
Betsey Beckman, MM is nationally acclaimed as liturgical dancer, storyteller, teacher of SpiritPlay and dancing Spiritual Director. With her extensive background in performance, movement therapy, ministry and InterPlay, she is regularly featured as artist/presenter at national conventions as well as local churches. Betsey's most recent publications integrate InterPlay in a variety of ways. Her DVD The Dancing Word: Mary Magdalene, features a participatory InterPlay workshop breaking open the story of Mary Magdalene, and her co-authored book, Awakening the Creative Spirit: Bringing the Arts to Spiritual Direction, offers numerous InterPlay exercises for integrating into soul-care ministries. Betsey offers the gift of playful improvisation whenever possible!
Prashant Olalekar
Prashant Olalekar together with the InterPlay India team is playing a pioneering role in actively promoting InterPlay in India and building bridges through Global Peace Exchanges. He is a Jesuit, peace activist, spiritual director, educator and presently director of Jivanvikas Sadan Retreat House in Mumbai. He travels throughout India and abroad to share what he is learning about the power of play, spirit, and the deep wisdom of the body to foster peace. He has served as the former Novice Director and Coordinator of Formation of the Bombay Jesuit Province and founder of Pasayadaan Peace Partnership, a fledgling global network for peace. He is currently playing with integrating Ignatian Spirituality and Body Wisdom. Prashant encourages lay collaboration to foster the vision of InterPlay India namely, "to co-create a universe InterPlaying for Peace."