learn how you can lead this powerful movement ritual
The Planetary Dance
Cynthia Winton-Henry welcomes Jamie McHugh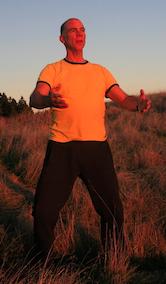 Oakland, CA
Friday, August 10th • 1:30-5pm
Led by Jamie McHugh, RSMT
The Planetary Dance is a contemporary dance for peace and healing in community created by the world-renowned dance visionary Anna Halprin. For the past 30 years, people of all ages and abilities around the world have joined together in this participatory dance - running, walking, dancing, chanting and standing up for their intentions.
The Planetary Dance is a mandala in motion, composed of alternating concentric circles within the square of the four directions. We become one collective body, all connected by the steady heartbeat of a drum, with each step upon the Earth an embodied prayer for healing. Check out www.planetarydance.org.
This event is part of the Art & Social Change Program that is taking place in August, but is also open to the general public.
Jamie McHugh is a Registered Somatic Movement Therapist, a movement arts teacher and a fine art photographer. He is the creator of "Somatic Expression – Body Wisdom for Modern Times", and has taught workshops and trainings internationally in somatic education and the expressive arts for over thirty years. Jamie is a longtime associate of Anna Halprin. He most recently conducted a Planetary Dance training for dancers and choreographers in France. Jamie is senior faculty at Tamalpa Institute as well as adjunct faculty in Holistic Health Education at John F Kennedy University. He is completing his first book, Restoring Original Grace - Movement as Medicine. Check out www.somaticexpression.com.
Cost:

$25 - 35 suggested donation
Registration/Information:

To register, please contact the InterPlayce Office at 510/465-2797 or info@interplay.org.

Venue
InterPlayce
2273 Telegraph Avenue (at 23rd St.)
Oakland, CA 94612
InterPlayce is the center of the InterPlay universe. The offices for Body Wisdom, Inc. are also located here. The building is at the corner of 23rd and Telegraph, one block north of West Grand. It is just a few blocks from the 19th Street Downtown Oakland BART station, and on several convenient bus lines. On-street parking is always available at night and metered during the day. It is also easily accessible by several of the major freeways.
Click here for a map.
Leaders
Cynthia Winton-Henry
Cynthia is one of the founders of InterPlay. With Phil Porter she provides leadership around the world to those interested in integrating body wisdom in their life and community practices. Her books include What the Body Wants, Dance: A Sacred Art: Discovering the Joy of Movement as Spiritual Practice, and Chasing the Dance of Life: A Faith Journey, Apocryphile Press and Having It All: Body, Mind, Heart & Spirit Together Again at Last. She administers the Focused Energy Balance Indicator to people interested in their four primary patterns of movement. Visit her blog, Mystic Tech to learn about her soul coaching and other resources.