Secrets of Interplay in Raleigh, NC
Terry McCarthy
and
Stacy Miller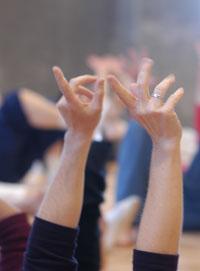 Raleigh, NC
Thursday, September 20, 2012 at 7pm through Sunday September23, 2012 at 1pm
Learn how you can use the tools and ideas of InterPlay to unlock the wisdom of your body. Get your body, mind, heart and spirit all on the same page. Learn more about yourself through connection and community. Create more ease and fun in your life. This multiple-day event will give you direct experience in many aspects of the InterPlay system. It is also an important element of the InterPlay Life Practice Program offered in the Washington DC area. An extra fee of $30 will cover the cost of renting our space.
Cost:

$350 tuition ($250 for repeaters) plus $30 rental costs
Registration/Information:

Register info@interplay.org or (510/465-2797), questions temccarthy@hotmail.com, stayseereiki@nc.rr.com

Venue
Hospice of Wake County
250 Hospice Circle
Raleigh, NC 27607
Leaders
Terry McCarthy
Terry Mccarthy is a teacher, performing artist and InterPlay leader with a day job at a computer company. He is a founding member of Off the Deep End Ensemble and former director of Inner Voices vocal ensemble. Terry is a former elementary school teacher with a BS degree in Arts for Children with Music Emphasis. He teaches InterPlay performance, storytelling and writing classes. Terry serves as a bodyspirit mentor with the Raleigh InterPlay Life Practice Program.
Stacy Miller
Since 2003 Stacy has led InterPlay classes focusing on women's spirituality, InterPlay with nature, and movement for InterPlayers. She holds a BFA in Modern Dance and has taught modern dance to populations ranging from pre-schoolers to college students to talented and gifted high school students. She performs with the Raleigh InterPlay troupe Off the Deep End Ensemble, creates hand-woven tapestries, practices Shamanic Reiki, and enjoys playing the banjo.