Women's Circle
Come celebrate and reconnect to your inner power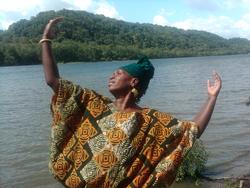 Oakland, CA
Saturdays, July 14 and November 10 • 2 - 5:30 pm
Interplay leader Soyinka Rahim will guide the group through activities that help us reconnect to our inner power using movement, storytelling and sound in a safe and nurturing setting. You will leave with accessible tools for a daily life practice that affirms your womanhood. Soyinka Rahim, founder and director of OurThing Arts Company, is a certified InterPlay Leader. Soyinka was born and raised in Oakland, California in an Afrocentric family that explored holistic thinking, power to the people, the world's religions, and many different art forms.
Cost:

$30 per person or $20 each if you bring a friend
Registration/Information:

InterPlayce 2273 Telegraph Oakland, CA 94612 510/465-2797 or Soyinka Rahim 510/388-7166

Venue
InterPlayce
2273 Telegraph Avenue (at 23rd St.)
Oakland, CA 94612
InterPlayce is the center of the InterPlay universe. The offices for Body Wisdom, Inc. are also located here. The building is at the corner of 23rd and Telegraph, one block north of West Grand. It is just a few blocks from the 19th Street Downtown Oakland BART station, and on several convenient bus lines. On-street parking is always available at night and metered during the day. It is also easily accessible by several of the major freeways.
Click here for a map.
Leaders
Soyinka Rahim
Soyinka Rahim, founder and director of OurThing Arts Company, is a Certified InterPlay Leader. Soyinka was born and raised in Oakland, California in an Afrocentric family that explored holistic thinking, power to the people, the world's religions, and many different art forms. Soyinka has channeled her experiences in dance, music, theater, poetry and song into facilitating Movement Meditation and Interplay/Body Wisdom with diverse groups of children and adults in the U.S. and abroad. "Since we all deal with fear, doubt, shame and disappointment," says Soyinka, "it's important to make opportunities to play, laugh, celebrate and love one another through this human experience."