Embodiment, Fun, Release, Community
InterPlay For Men (drop-in)
Jonathan Leavy
,
Connors John McConville
, and
Amos Alan Lans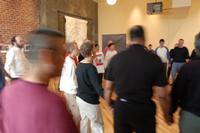 Oakland, CA
on-going drop-in class Thursdays • 7-8:30 pm
Join us as we play, express, and create together. Invite your whole self to join in with rhythm, stories, movement, caterwauling, and more. Connors, Jonathan, and Amos share leadership. Second Thursdays each month are special nights for men new to InterPlay, but everyone is welcome on any Thursday. Four times a year, for the classes nearest the solstice and equinox, we invite women to join our circle and celebrate with us (separate postings also appear for these events).

This is one of several ongoing drop-in classes offered at InterPlayce each week. Now you can do InterPlay whenever you choose!

Engage mind, body, heart, and spirit in an affirming, fun-loving practice with great teachers. Get yourself running on "all cylinders!"

It's easy to learn the simple forms of InterPlay. If you are new you can catch on as you go. Anyone can do it!
Make new friends! InterPlay classes create instant community.
Learn body wisdom tricks and tools to make life easier.
No experience necessary! InterPlay is accessible to people of all ages and abilities.
Get a hit of a whole day's play with other men led by Amos Lans and Phil Porter on Saturday, Sept. 28, 2019...
All of the weekly drop-in classes offered at InterPlayce are rooted in the basics of InterPlay but vary slightly based on the gifts of the teacher. Come find just the right class for you! You can join a class at any point in the season, and take different classes as you choose.
One day I danced,
my people all around me,
was I lonely once?
-- improvised haiku from Thursday night InterPlay
Cost:

$15 per class • $48 for 4 classes (save $12!) • $90 for 10 classes (save $60!)
Registration/Information:

Just show up. Questions? Email Amos Lans by clicking the link below.

Venue
InterPlayce
2273 Telegraph Avenue (at 23rd St.)
Oakland, CA 94612
InterPlayce is the center of the InterPlay universe. The offices for Body Wisdom, Inc. are also located here. The building is at the corner of 23rd and Telegraph, one block north of West Grand. It is just a few blocks from the 19th Street Downtown Oakland BART station, and on several convenient bus lines. On-street parking is always available at night and metered during the day. It is also easily accessible by several of the major freeways.
Click here for a map.
Leaders
Jonathan Leavy
Jonathan Leavy brings a rich and varied bundle of experience to his InterPlay leading. Originally from Colorado, Jonathan used his music major from Colorado State University and performed in and around Florida and New York City for 12 years. From off-broadway to cruise ships, and from dinner theaters to theme parks, Jonathan has found joy through diverse musical theater opportunities. A call to ministry brought Jonathan to Pacific School of Religion in 1998 where he focused on spirituality and the arts. Jonathan has completed the InterPlay Leadership Program and is a long-time member of WING IT! Performance Ensemble and a leader in the InterPlay community, teaching classes and retreats with a focus on the voice and performing.
Connors John McConville
MDiv, MA, LMFT, Certified InterPlay Leader, Connors is a long time Interplayer and WING IT! member and co-teaches with John Diller the Interplay Men's Class that meets every Thursday evening at Interplayce. He has worked as a dance teacher, dance-maker and performer internationally and taught at the International School Bangkok and at Chulalongkorn University. He is a somatic psychotherapist (MFC 47398), and a spiritual director and is currently in a PhD program in East West Psychology at CIIS. As a young Jesuit missionary in Thailand 1974 – 1978 he formally studied Buddhism and Vipassana (meditation) at Wat Suan Dok in Chiangmai and Wat Bowonniwet Vihara in Bangkok and was certified in Thai Massage Therapy (Nuat Boran) with over 500 hours of training.
Amos Alan Lans
Amos Alan Lans likes to tell folks, "I became a dancer in my 50's, thanks to InterPlay!" Amos is one of the three co-leaders of the Thursday evening men's drop-in class. He loves introducing InterPlay to groups of men, especially gay men, especially older gay men who are learning new ways of enjoying being in their ageing bodies as well as playful ways of connecting with other guys. Letting stories emerge from movement is one of Amos' favorite InterPlay activities. For 20+ years, Amos set up and taught in public school gardening programs. He now teaches the joys of composting, gardening, and healthy eating to at-risk urban youth in North Oakland's Dover Street Edible Park, near his home on 61st Street.