Embodiment, Fun, Release, Community
InterPlay For Men (drop-in)
John Diller
and
Connors John McConville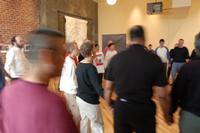 Oakland, CA
on-going drop-in class Thursdays • 7-8:30 pm • Last class of the year on Dec 15th, starting again Jan 5th
Join us as we play, express, and create together. Invite your whole self to join in with rhythm, stories, movement, caterwauling, and more. Connors leads the first Thursday of each month and John leads the others. Four times a year, for the classes nearest the solstice and equinox, we invite women to join our circle and celebrate with us (separate postings also appear for these events).
This is one of several ongoing drop-in classes offered at InterPlayce each week. Now you can do InterPlay whenever you choose! Engage mind, body, heart, and spirit in an affirming, fun-loving practice with great teachers. Get yourself running on "all cylinders"!
It's easy to learn the simple forms of InterPlay. If you are new you can catch on as you go. Anyone can do it!
Make new friends! InterPlay classes create instant community.
Learn body wisdom tricks and tools to make life easier.
No experience necessary! InterPlay is accessible to people of all ages and abilities.
All classes are rooted in the basics of InterPlay but vary slightly based on the gifts of the teacher. Come find just the right class for you! You can join a class at any point in the season, and take different classes as you choose.
Cost:

$15 per class • $48 for 4 classes (save $12!) • $90 for 10 classes (save $60!)
Registration/Information:

Just show up. Questions? Email John by clicking the link below.

Venue
InterPlayce
2273 Telegraph Avenue (at 23rd St.)
Oakland, CA 94612
InterPlayce is the center of the InterPlay universe. The offices for Body Wisdom, Inc. are also located here. The building is at the corner of 23rd and Telegraph, one block north of West Grand. It is just a few blocks from the 19th Street Downtown Oakland BART station, and on several convenient bus lines. On-street parking is always available at night and metered during the day. It is also easily accessible by several of the major freeways.
Click here for a map.
Leaders
John Diller
John Diller found his way to InterPlay via a winding road that includes poetry, improv, Permaculture, storytelling, the great outdoors, Buddhist philosophy, bicycling, and nine years of teaching high school theater. He now leads the Thursday evening men's InterPlay class and works by day at a management consulting company. John thanks InterPlay for an increasingly embodied and nourishing life and for the opportunity to help others use InterPlay to have more fun, connect, dive deep, or whatever.
Connors John McConville
San Francisco, CA
Connors (John) McConville, MDiv, LMFT, Certified InterPlay Leader
Connors McConville is a long time Interplayer and WING IT! member. He was certified as an Interplay Leader in 2000.
Connors has worked as a dance teacher, dance-maker and dance performer in the Bay Area (Shawl-Anderson Dance Center), Kolcata, India (Oxford Mission and USIS-Kolcata) and for a period of ten years in Bangkok, Thailand at the International School Bangkok and at Chulalongkorn University.
Connors is a somatic psychotherapist (MFC 47398), a spiritual director and a hospice spiritual care counselor. He sees private clients in San Francisco.
Connors was a Jesuit seminarian for 14 years. As part of that training he worked as a missionary in Thailand from 1974 – 1978 and formally studied Buddhism and Vipassana (meditation) at Wat Suan Dok in Chiangmai and Wat Bowonniwet Vihara in Bangkok.
Connors is a certified Thai Massage Therapist (Nuat Boran) having received over 500 hours of training in Thailand and a body alignment expert, having taught for a number of years with Lissa Renaud at the Actors' Training Project in Oakland, CA.
Connors is presently creating a ballad opera for children with composer, John Craig Cooper, entitled Around the Greenwood Tree. The central theme is multileveled: a lesson in love and sacrifice, a lesson in making peace with enemies, and a lesson in environmental health & sustainability. Find more about the opera at http://www.paramitaproductions.org/