Unlock the wisdom of your body!
Secrets of InterPlay in Oakland 2017
An active, creative way to change your life.
Phil Porter
and
Soyinka Rahim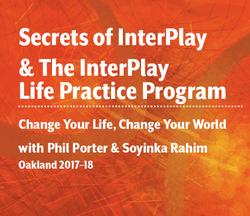 Oakland, CA
Friday evening through Sunday afternoon • Oct 13–15, 2017
Learn how you can use the tools and ideas of InterPlay to unlock the wisdom of your body. Get your body, mind, heart and spirit all on the same page. Learn more about yourself through connection and community. Create more ease and fun in your life. This multiple-day event will give you direct experience in many aspects of the InterPlay system. It is also an important element of the InterPlay Life Practice Program which will be offered in Oakland on the 2nd weekends of November 2017 through May of 2018.
Phil Porter, co-founder of InterPlay, will be the primary leader of the Secrets of InterPlay along with leader and performer Soyinka Rahim.
Download the full Oakland Life Practice Program brochure.
Schedule
Friday 7–9 pm
Saturday 9:30 am–6 pm
Sunday 1:30–4 pm
Repeating the Program
Anyone who has taken the Secrets of InterPlay, the Life Practice Program or a previous version of those programs, can repeat this event and the Life Practice Program at a significant discount. Download the Oakland Life Practice Program brochure for full details.
Continuing Education Credit
15 CE credits for RNs, MSWs, LPCs, MFTs are pending approval. *No partial credits will be given.
CE preregistration deadline is no later than September 29, 2017. Notify Body Wisdom staff at time of registration that you want CEs. A CE fee of $25 will be due at time of preregistration.
CEs are offered through Commonwealth Educational Seminars. Please see the Commonwealth website for specific information regarding disciplines covered.
Cost:

$350/$250 for those repeating
Registration/Information:

Call the InterPlay office at 510/465-2797 to register. Contact Phil Porter for more information.

Venue
InterPlayce
2273 Telegraph Avenue (at 23rd St.)
Oakland, CA 94612
InterPlayce is the center of the InterPlay universe. The offices for Body Wisdom, Inc. are also located here. The building is at the corner of 23rd and Telegraph, one block north of West Grand. It is just a few blocks from the 19th Street Downtown Oakland BART station, and on several convenient bus lines. On-street parking is always available at night and metered during the day. It is also easily accessible by several of the major freeways.
Click here for a map.
Leaders
Phil Porter
Phil is one of the founders of InterPlay. He is a teacher, performer, writer, and organizer. With Cynthia Winton-Henry he is the co-founder of WING IT! Performance Ensemble, and has written several books, some in collaboration with Cynthia, including Having It All: Body, Mind, Heart & Spirit Together Again at Last and The Slightly Mad Rantings of a Body Intellectual Part One. Phil is particularly interested in the use of InterPlay in organizational life, and believes that InterPlay can be a powerful tool to create communities of diversity and peace.
Soyinka Rahim
Soyinka Rahim, founder and director of OurThing Arts Company and BIBOLOVE, is a Certified InterPlay Leader. Soyinka has a long history as a member of the Bay Area's most renowned modern and ethnic dance companies. Her work taps into the power of sound and vibration to create peace and happiness for all humanity. In addition, she created the original, acclaimed Dance Play "An Alter Piece to Alter Peace," and has worked with passion for intergenerational community in schools and community centers all over the West Coast and U.S. Her work as a conference weaver and workshop leader includes Race Forward, National Association for Independent Schools Teachers of Color, Boys and Girls Clubs, Spiritual Directors International, and the Parliament of World Religions.